Alec Brownscombe
While Hockey's Future has yet to release their top 10 organizational prospect rankings, the highly-respected source for prospect information has released their 11-20 and 21-30 lists. To the pleasant surprise of many, the Leafs aren't on either of them.
Adding to the joy, division rivals Buffalo, Montreal and Ottawa have all already appeared in the 13th, 16th and 21st positions respectively.
[more…]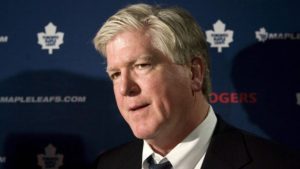 While most Leafs fans are content to sweep the 2009-10 season aside and look ahead to greener pastures, we're nevertheless forced to look on in envy as sixteen other fan bases get to watch their teams play meaningful hockey with the sun out. It's a feeling Leafs Nation hasn't experienced since pre-lockout times, and as low as expectations may have been coming in, it is unexceptionally a failure not to be in the mix this time of year. Brian Burke will be the first to acknowledge that, and did so in his State of the Union address today.
[more…]
From Komi:
"Final chance to get in on the MLHS Playoff Hockey Pool!
Go to:Â http://fantasy.sportsnet.ca/sportsnet/hkplayoff10
It's free and there are great prizes on the line [more…]
An active voice in the betterment of the sport of hockey, Brian Burke has three rule change proposals according to Darren Dreger. And I like all three, with some trepidation.
[more…]
Phil Kessel has but one point in five games against his former side while recurrent Leafs nightmare Tuukka Rask, league leader in goals against average and save percentage, stands 3-1-0 against the club that drafted him. This match-up tonight marks the final opportunity this season to get a little bit of that sour taste out of the fan base's collective mouth and perhaps symbolize that we, too, can make good trades.
Unrelated Update: New signing Brayden Irwin to play tomorrow night against Atlanta (link).
#36 in Blue and White is proving to be everything his number-sake Anton Stralman never became in Toronto. Hear me out, Andrew R.
Pride, youthful enthusiasm, new contracts and job opportunities for next season continue to provide more than enough hop in the Leaf step as they look to make it eight wins in their last ten and seven in their last eight at home when they play host to the Rangers at the ACC tonight.
[more…]
After tonight's snoozer, let's move on to a bigger and better subject.
Some of you may have watched a surprising Norway side battle Switzerland to the bitter end for a quarterfinal birth in their final preliminary game at the Olympics; if so, try to recall a 5'7, 160-pound speedster working a stick as tall as the man himself.
Final Deadline Trades:
Alexei Ponikarovsky to Pittsburgh for Luca Caputi and Martin Skoula
Martin Skoula to New Jersey for a fifth round draft selection.
Lee Stempniak to PHX for 4th and 7th rounders.
Joey MacDonald to ANA for a 7th rounder in 2011.
Wrap-Up: That looks to be a wrap on Brian Burke's trade activity for the 2009-10 season. The Stempniak deal was obviously a form of loss-cutting on a pending UFA, but it's a bit painful to remember who we sacrificed to acquire him in November of 2008 in two albeit underachieving first rounders in Alex Steen and Carlo Colaiacovo. The Leafs will not draft until the third round this year, and Burke did not succeed in that sense, however he moved the only piece realistically capable of fetching a second rounder for a semi-established young asset with the potential to replace Poni at an immediately cheaper price in Luca Caputi. It looks as though no takers could be found on either Wayne Primeau or Garnet Exelby, who look sure to now enter the FA market July 1.
There seems to be details yet to unfurl surrounding the Tomas Kaberle situation this deadline, as once again Leafs fans were teased into believing a deal was pending (involving Hodgson, as it was reported, or possibly Alzner from Washington) only for what looked to be an imminent deal to be flatly denied by Brian Burke in the end. There are rumblings that Kaberle might have nixed a deal in similar fashion to the Jeff Carter situation at the '08 deadline.
From Garrett Bauman:
Prospect defenceman Keith Aulie:
"Aulie is a 6'6 defenceman playing for Abbotsford of the AHL. Our plans for Keith are for him to stay at the AHL level for the present, so he will report to the Marlies. This is a player who played on the national junior team and won a gold medal. Excellent skater for a big man, a guy we coveted and hard to work real hard to get into the deal. We think he's going to be a really good NHL player down the road for a long time. We think right now, like Calgary did, that from a development standpoint, he'll be better off logging big minutes in the American league.
On the heels of Saturday night's rumour from the Hockey Night in Canada Hot Stove panel that the dealing of pending free agents Matt Stajan and Alexei Ponikarovsky is a virtual certainty, TSN's Darren Dreger has listed the pair as the fourth and fifth most-likely trade candidates this trade deadline (Stajan followed by Ponikarovsky) as Brian Burke seeks to re-equip his club with picks lost or equivalent prospects.