Alex Tran
After a consistently inconsistent first half of the season with the Marlies, [more…]
A little over halfway through the season, it's time to tear our eyes away from the bottom of the NHL standings for a second and see how the future of the Maple Leafs are doing. Notable breakout players include Owen Sound's puckmoving defenseman Jesse Blacker and NCAA goal scoring machine Matt Frattin out of the University of North Dakota. Below is a brief overview of some of the Maple Leafs' biggest movers, either up or down, the organizational depth chart. [more…]
- Maple Leafs prospect Matt Frattin has been put on ballot for the Hobey Baker Award, given to the NCAA's most outstanding player. After a [more…]
According to the Hockey Night in Canada panel, [more…]
The Toronto Sun reports that GM Brian Burke [more…]
As 2010 winds down, there are multiple sources hinting at some movement on the trade front for the Maple Leafs:
- TSN's Darren Dreger notes [more…]
Kadri's allowed to play again! After a [more…]
In a recent lunch interview with the Toronto Star, GM Brian Burke finally conceded what many fans and media types have been saying the last couple of weeks: change is needed. While it has been quite popular to lay most of the blame at the feet of the head coach, Burke reiterated for the umpteenth time that the players have not quit on Ron Wilson and that they "are not even contemplating, considering or discussing a coaching change at this point."
Burke did state however: "I think this group has established to my satisfaction that we're not going to come out of this without some outside help. We're not looking at a coaching change. So we have to see if we can make a player personnel change." [more…]
Some quick news and notes for your Monday afternoon:
- The Maple Leafs announced over the weekend that forward prospect Mikhail Stefanovich has been loaned [more…]
The Maple Leafs will try to forget last night's defeat in Buffalo as they travel tonight to Scotiabank place to duel against their struggling provincial rivals. After kicking off the month of November with a 5-1-0 run, the Senators have since lost 5 out of their past 6 games including a defeat Friday afternoon at the hands of Sidney Crosby and the Penguins.
The Leafs have had a nightmarish time on the road this season, ranking dead last in the league in terms of road record and offensive production. The team has stumbled into a 2-6-1 record including a ghastly 16 goals for through those 9 games played. The Leafs have lost seven in a row on the road, as their last victory away from the friendly confines of the ACC came way back on October 15th against the Rangers at Madison Square Garden. [more…]
Some links for your Thursday afternoon enjoyment:
Mark Sutcliffe of the Ottawa Citizen makes the case for banning Leaf fans from attending Leafs-Senators games at [more…]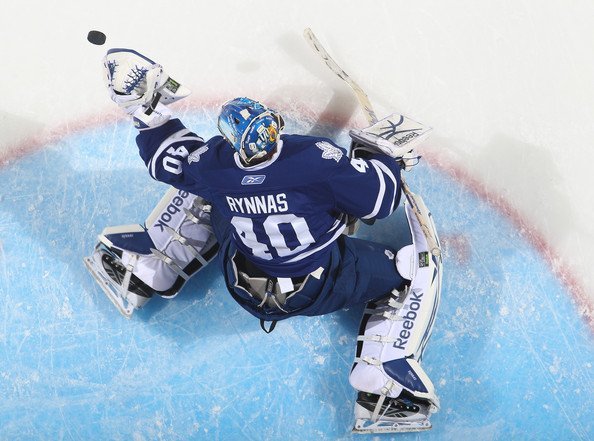 It appears as if goaltender Jussi Rynnas is adjusting well to life in North America after a bit [more…]