Morning Mashup
It's painful for me to admit, but as much I will continue to bitch about how useless Colton Orr, Mike Brown, and (presumably) Frazer McLaren are, they will always have a spot on a Dave Nonis/Randy Carlyle run team. This is clearly an issue that I and many others have a difficult time coming to terms with, but it's true. An enforcer will be dressed every night, and we'll all be treated to a sideshow (admittedly an entertaining sideshow most of time) before proceeding to move on with the game, and coming back to terms with the other shortcomings of the lineup. Since I'm ready to concede that there will be an enforcer, I'd like to make the following asks. They will fall on deaf ears, but I'm going to make them anyway. Hopefully we can move past this annoying little issue and begin discussing the bigger issues of the roster. [more…]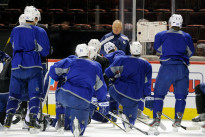 At the start of this season, noise was made that the current Leafs roster would be ill-equipped to serve under Randy Carlyle's tough-nosed, nasty, defense-first style of play.  That there was not enough team truculence to compete.
Despite the team placing 3rd in the league in fighting majors with seven, the club has been shorthanded a surprisingly low 23 times (3.29 penalties per game), fifth least in the league thus far.  It's quite early still, but the disciplined play is a stark change for a team coached by Carlyle.  And that's all for the better.
On Wednesday I joined Michael (from Vintage Leaf Memories) and Matteo (from We Want A Cup) on their Leaf Matters podcast. If you haven't had a chance to check out their podcast, please do so. Our good friend Curt (Blue Chip Prospects) has been on previously, as well as other notable guests like Pat Quinn, Allan Bester, Joe Bowen, Down Goes Brown, and more. [more…]
Toronto will be without Clarke McArthur as they visit the Buffalo Sabres. The injury to his pinky finger won't sideline him for long but it does leave the Leafs' LW depth, already missing Lupul, looking thin for tonight.
The Sabres, like the Leafs, are not exactly hot. They have lost three straight and Thomas Vanek was sidelined by a strained muscle in Sunday's 3-2 loss in Washington. The left winger had been on the ice for all 11 of his team's goals prior to that contest, scoring three and assisting on six - one versus the Maple Leafs. [more…]
One of the more positive stories in Leafland a week ago was Mike Kostka earning a spot on the Leafs blue line coming out of camp. The 27-year-old career AHLer made his NHL debut in Montreal and was able to pick up his first point. He didn't look horribly out of place against a horrible team. It also probably didn't hurt to have a guy who has been playing all season, eating 20 minutes a night, in the first couple of shakedown games.
Kostka certainly seemed like a reliable option that would slowly slide down the depth chart as Carlyle had a better chance to assess his regulars. To date (albeit it's been five games) that hasn't happened. Kostka played 22:59 minutes against Montreal, and that ice time has climbed up to over 31 minutes against New York on Saturday night (he was also minus -4). He's currently 10th in the league in Average Time on Ice per game, ahead of recent Norris Trophy winners Zdeno Chara and Erik Karlsson. [more…]
Last night, the Toronto Maple Leafs put on a classically Toronto Maple Leaf performance, falling 7-4 to the New York Islanders.  It got ugly late, as an out of synch, laboured Leaf club seemed to erode in the final 40 minutes.  It was an all-too-familiar sight to behold.  And it has, perhaps unduly, substantially darkened the opinions of the team.
So what can be made of Leaf's four game season?  Here are a couple quick thoughts on the manic life of a rebuilding club.
By Declan Kerin and Alec Brownscombe

The dark cloud hanging over an otherwise exciting 5-2 win in Pittsburgh last night was the injury to Joffrey Lupul. "Right on time," say the haters, as rest of us shake our heads and chalk another one up to the Luck of the Leafs. Dave Nonis and Lupul agree to terms on a five-year contractual commitment, both talk at length about how the player's injury history is behind him, he takes a puck to the forearm off a slapshot by his own teammate two games later and the x-ray reveals a fracture. It's a freak injury in no way related to any injury prior, but alas it's another truncated season for Lupul for health reasons. One imagines he will lose at least 30 games of the 48-game season. [more…]
The Leafs are in Pittsburgh tonight for what should be their stiffest test of the young season. The Leafs have won just once in their last five visits to the Consol Energy Centre. A frontrunner in the East, Pittsburgh has Evgeni Malkin, Sidney Crosby and Kris Letang all healthy and in the lineup to start the season and are currently 2-0-0 with nine goals scored.
Crosby and Malkin have averaged over two points per game against the Leafs at home, and it goes without saying that facing a team with Crosby leading one line (alongside Kunitz and Dupuis) and Malkin with James Neal on another is the definition of matchup hell, especially for a traveling coach with the last change. Even without Crosby for significant durations of the schedule, the Penguins were the winningest home team in the East last season with 29 victories at the Consol. It will be interesting to watch Mike Kostka play big-time minutes against two of the best in the game tonight in just his third NHL outing. [more…]
You'd think we were still waiting for the season to start with number of contract posts that have gone up in the past 24 hours. I think the Lupul trade has been analyzed very well by a number of Leafs bloggers (here's Alec's take from yesterday), but the fact that this has been discussed so much will not prevent me from weighing in on why I partially like this signing, but ultimately still conclude that it was a bad idea. I think this deal if managed properly could actually benefit the Leafs, and I'll toss in my $.02 on that as well. [more…]
There's no better way to kick off a Leafs season than to beat the Canadiens in their own rink, inspiring some hilarious yet predictable non-blowout booing from the fans and some verbal pleas to the front office to strike a deal with their unsigned RFA. [more…]
The Toronto Maple Leafs lost the services of forward Keith Aucoin on Thursday, when he was picked up by the New York Islanders off of waivers.  Jokingly mourned about online, Aucoin's departure comes less than six months after then-GM Brian Burke signed the veteran to bolster the AHL Marlies.  His acquisition by the Islanders marks the Leafs first loss to the roster due to waiver eligibility, but it probably won't be the last.
Indeed, both the Leafs and the Marlies seem poised to lose some assets, all because timing is everything.  And because the Lockout has far reaching effects that we're still learning about.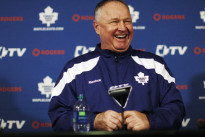 Gregg Scott, Ryan Hamilton, Mike Mottau, and Keith Aucoin were placed on waivers Wednesday as Randy Carlyle, Dave Nonis, and the Toronto Maple Leafs begin the hilariously rapid expedited process of trimming the roster from 31 players in camp to 23 for Saturday's season opener. My understanding is that rosters need to be finalized by 3pm Friday afternoon, which means any additional cuts will actually have to be sent down/placed on waivers Thursday to get the roster set on time. [more…]