The Maple Leafs sleepwalked through the opening 20 minutes before William Nylander and John Tavares combined to break the game wide open in the second period against the struggling New York Islanders.
Your game in 10:
1.    The Leafs are quite clearly a dominant home team again this season with an 18-3-4 record after this victory, but here is a fascinating stat about them at Scotiabank Arena this season: They've been out-scored 23-19 in the first period on home ice (wait until you hear the contrast against the second-period numbers in the next point!).
Just like the first game against the Islanders earlier this season, they were outscored 1-0 in the first period (on a late rebound goal by Anders Lee), but the bigger issue was that the entire period was poor from the Leafs in general. The first three or four minutes were a disjointed series of whistles, but as the game settled in, the Leafs were stalling out in the neutral zone a lot, playing into the Isles' clogged-up neutral zone with regular turnovers through the middle of the ice. It put a much slower team than the Leafs on the front foot while the Leafs were on their heels reacting for much of the period.
---
2.   The Leafs didn't register a shot on goal until 12 minutes into the game; granted, Alex Kerfoot went on a 2-on-1 (and bobbled the puck — typical for his season) and Calle Jarnkrok just missed on a back-door tap in off of a John Tavares feed (the pass got deflected a little). But the Leafs were outshot 10-3 at five-on-five and posted just a 30% CF% and xGF% over the 20 minutes.
The Isles were firing a lot of empty-calorie shots from the perimeter, but they did have some good looks; Ilya Samsonov (who was great again tonight) came up with a huge save on Casey Cizikas early on off of a half-wall turnover by William Nylander, the returning Kyle Palmieri had some quality chances from the slot including one off of a pizza into the middle by Tavares, and in general, Samsonov needed to be sharp quite often in the opening 20 minutes. The late 1-0 goal was fully deserved by the Islanders.
The Leafs' late power play was unsurprisingly not particularly dangerous; it's usually pretty hard to suddenly get rolling and be sharp with the man advantage when you've been failing to complete plays at even strength for much of the period.
---
3.    The second-period stat, as promised: The Leafs have scored more second-period goals at home than any other team after tonight's four-goal outburst, outscoring the opposition by an incredible 38-17 margin.
After a first period that was played at the Isles' preferred style and pace, the Leafs  adjusted nicely and totally blew the game open on them with the long change in the middle frame, getting in behind the Islanders for a bunch of free-and-clear chances. There were goals by John Tavares and Calle Jarnkrok scored in alone, an unsuccessful penalty shot for Michael Bunting after a breakaway chance, and a breakaway for Auston Matthews late in the period (I'm sure I am missing a few).
It is interesting to note that the first game against the Isles played out this way with the Leafs trailing 1-0 after a low-event first period before breaking through with two goals unanswered in the second. The wider trend of the huge disparity in first vs. second-period differential is probably something worth exploring in more depth, but it feels to me that teams come in with a game plan on the road against the Leafs to slow them down through the neutral zone and the Leafs are too often slow to adjust.
Against a trap-happy and slower Isles team, the disparity was particularly stark tonight, but it is something that should be highlighted and addressed in general. Against elite teams in the playoffs, slower starts can be terminal. When faced with a team that is jamming them up early on, sometimes it's necessary to simplify by getting a few pucks in deep, getting the legs moving, establishing a forecheck, and sparking some energy in the building to start the game. Once they're on top of the other team and the opposition is scrambling pucks out of their zone, it becomes difficult for them to defend the neutral zone with structure, and then the skilled play can start to emerge and take over in waves.
---
4.    Sheldon Keefe started the second period with a familiar switch in the top six in search of a spark, with William Nylander joining John Tavares and Mitch Marner returning to Auston Matthews' wing.
The top line buzzed on the very first shift. Ilya Samsonov played an (easy to forget now) important role in keeping the game at just 1-0 on the shift after that with a couple of saves on grade-A chances for Anthony Beauvilier (Alex Kerfoot lost him on the cycle and let him walk straight out of the corner).
The 1-1 goal arrived soon after on a sequence that started a little earlier with a nice play by Bobby McMann to send a bank pass to Tavares for a drive to the net that didn't fall for him. Not long after, when the line change was fully completed, Tavares linked up beautifully with Nylander for the 1-1 goal.
---
5.   Not sure if it's the former team factor (probably not as I am sure he is long since over that), but John Tavares was absolutely dialed-in in the second period. He was all over the puck, driving the net, holding off defenders, and making play after play.
The 1-1 goal was a great example of a skill he's really mastered in these kinds of one-on-one situations against a defender below the circles: a quick little fake pull-up with his feet that tangles up the defender and buys the space to slide the drop pass to Nylander.
WILLIAM NYLANDER 🚨

What a feed from Tavares pic.twitter.com/vL8DE4oCWK

— Omar (@TicTacTOmar) January 24, 2023
Tavares has been using fast-slow-fast gear changes to his advantage throughout his career (where McDavid's gear changes go 1-2-3-4-5-6-6-6-6-5-6, Tavares' go 1-2-3-4-3-4-3-4). He doesn't have explosive separation speed in the way a Nylander does, but he has so many tricks in his bag when it comes to gaining the bits of separation needed to make plays in tight, with the impeccable hands and vision to take full advantage.
His skating looks maybe a touch sharper this season, too, as mentioned in this space before; he put in a ton of work with skating development coach Paul Matheson this past offseason, according to reports.
---
6.   One minute after the Leafs tied the game, the Islanders briefly restored their lead at 2-1 on a rough play by Conor Timmins. He missed his stretch pass through the neutral zone for an initial turnover, and then he either lost the puck in his feet or thought he had more time to get his head up and find an outlet than he did along the boards, leading to another turnover in the defensive zone. Against opposition like Mathew Barzal and Anders Lee, those mistakes can end up in the back of the net in a blink of an eye, which is exactly what happened.
In the third period, Timmins whiffed on a pass reception at the offensive blue line, chased it down into his own zone, skated it out into danger in front of the net for a turnover, and lost a battle along the end boards. It resulted in a Kyle Palmieri one-timer from the middle of the slot. 
For all of the promising elements in his game, there are clear moments of inexperience showing through with Timmins in most of the games he's played lately. The experience he's gaining here and his potential to give the Leafs NHL minutes as a RHD puck-mover are both valuable, but this is likely not someone the Leafs will want regularly playing in their playoff lineup at this stage in his development.
---
7.   The Leafs tied the game up at 2-2 on another great John Tavares moment in the second period — a beautiful backhand roof job, set up on the power play by an Ilya Samsonov (!) stretch pass that caught the Isles scrambling for a change.
Find a tendy who can do both! 😳🍎 pic.twitter.com/saOtpuhjko

— Toronto Maple Leafs (@MapleLeafs) January 24, 2023
The Tavares line kept the pedal down a few minutes later with a delightful aerial area pass by William Nylander in behind the Isles defense for Calle Jarnkrok to skate onto, and Jarnkrok confidently buried it into the top shelf.
These assists just keep getting better 😧 pic.twitter.com/JkYkvl9zMC

— Toronto Maple Leafs (@MapleLeafs) January 24, 2023
Whether Jarnkrok needs to be upgraded at 2LW for the playoff run is a question for another day, but we have to give him this much: Having watched Kerfoot spend so much time in this lineup spot before, it's refreshing to see someone there who can bury when given these kinds of opportunities.
---
8.   William Nylander continued his dominant second period by grabbing his second of the period to make it 4-2, registering his fourth point in just 11 minutes and change. It came after another beastly shift by John Tavares winning battles and protecting the puck down low.
Nylander is highly underrated for his ability to force turnovers on the forecheck; the Isles appeared to have survived that deluge, but he subtly closed so quickly on Scott Mayfield with a few one-legged push-offs and again showed his uncanny knack for getting his stick on a puck to cause a turnover (he's unbelievable at swatting down pucks or getting a stick lift in at the last second). That led to the possession change prior to his goal, and he got a friendly deflection on the shot on the way in as the reward for his efforts.
It's that guy, Will Ny The Scoring Guy! 😎 pic.twitter.com/ifQhlRjKXV

— Toronto Maple Leafs (@MapleLeafs) January 24, 2023
Nylander's current pace after tonight's four-point period: 44 goals and 96 points.
---
9.    Auston Matthews got in on the action with the insurance 5-2 goal on a breakaway in the third period.  I am not sure if Justin Holl was trying a bank pass to one of the first layers of Leaf forwards on the breakout, but if it was intentional (I lean not), it was a hell of a Plinko play off the wall through the neutral zone to hit Matthews in stride. The finish was impeccable, and another sign that Matthews' 2021-22 swagger is coming back. That was a complete no-doubter of a finish, bringing him up to eight goals in his last 10 games.
A hand for Holler 👏 pic.twitter.com/6bYyVJIc9Q

— Toronto Maple Leafs (@MapleLeafs) January 24, 2023
---
10.    The positive impact of the Nylander-Marner swap in the top six will be much talked about for good reason after this one, but it's also worth noting the swapping happening on the blue line. Dean Chynoweth moved away from Morgan Rielly – Timothy Liljegren as Liljegren played most of his 5v5 minutes with Mark Giordano and Rielly played more of his minutes with Justin Holl. Rielly-Liljegren were out for a remarkable 14 shots attempts against and one shot attempt for to go along with a 1.26% (not a typo) xGF in their six and a half minutes of 5v5 ice time.
In theory, I think Rielly-Liljegren can work if given time on account of Liljegren's generally strong rush defense, but Chynoweth ran away from it tonight after a rough start (I thought Liljegren was good with Giordano, as most players seem to be). The Leafs have eight NHL defensemen and the ability to ice three fairly balanced pairings, but there is so much uncertainty around the right combinations, and it is a notable issue in need of sorting out down the stretch.
It's a good thing TJ Brodie is nearing a return sooner than later as a potential tonic to the situation, and they'll need to give him the time to work back from his injury alongside Rielly before we can judge it. We know Giordano-Holl works (or Gio – just about anyone, but this has been a go-to), and we can be reasonably confident in Sandin – Liljegren's history. As long as Brodie and Rielly can strike up their old chemistry (with some patience if necessary), everything clicks into place here. If they don't…
---
Heat Map: 5v5 Shot Attempts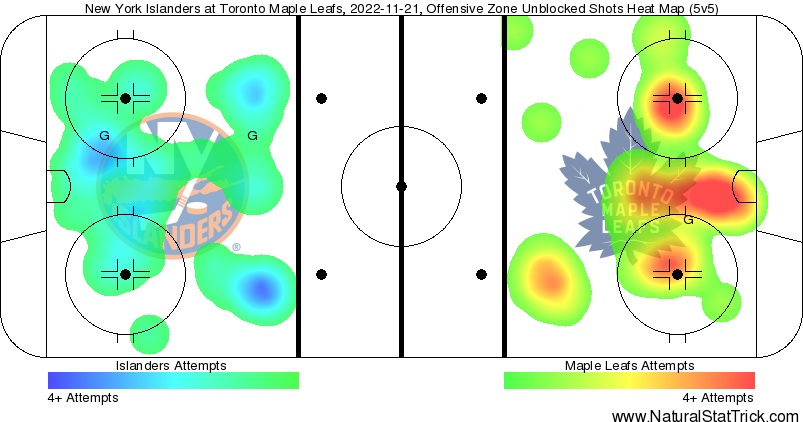 ---
Game Flow: 5v5 Shot Attempts