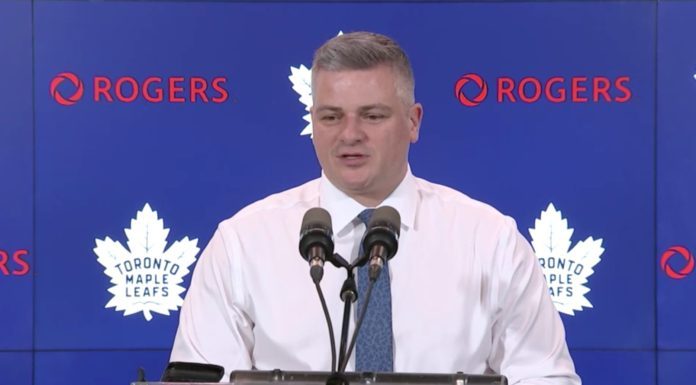 Sheldon Keefe addressed the media after his team's 3-2 overtime win over New York Rangers which improved the Leafs' record to 30-11-8.
---
On the team's ability to generate a push in the third period to tie it:
We were able to break through. They played us hard tonight. It is a good team and a deep team. They were not giving us a lot.

We had enough to have more than one goal through 50 minutes or whatever it was, but it's a good goaltender, a good team playing hard defensively, and we didn't make good on some of our best looks. We got the game close enough to give ourselves a chance to stay with it.

We talked about that it was probably going to be one where we have to shoot our way in and get a bounce to go our way. That is how it worked out.
On whether putting Matthews, Marner, and Nylander together provided the spark needed:
It seemed that way. There wasn't a whole lot happening for us. It was a combination of us just not connecting on some of our players coming out of our end, and you have to give credit to New York. Those guys played hard tonight. They were on top of us. There were not a lot of opportunities to get through them for long stretches of the game.

I thought that was the case both ways. We made one more mistake that they capitalized on than we capitalized on theirs. That is why we were down one. The guys just stuck with it. We played well enough to keep the game close.

We got a good break, obviously. They missed the empty net. But I was really happy to see our guys get rewarded. Overtime goes our way, too.
On Timothy Liljegren jumping up for the game-tying goal:
We talk a lot about having that guy come down that backside. Specifically, tonight, it was hard to get clean looks to the net. We talked about the fact that we were going to have to shoot our way in and generate traffic and create some randomness around the net there. We needed people to be in those spots to be able to win pucks back — both forwards and D.

You want your D down there quite a bit when you have one guy rolling up higher. We had that. It was a good read by him. He beat his man to get to the inside. Their goaltender can't see the puck, which with him playing the way he was is an important factor. He made good on the shot.
On the progress Liljegren has made since his time with the Marlies and whether he is exceeding expectations:
It is hard to say. He came over at 18. He was playing in the AHL, and he was on one of the top teams in the league. He was playing in the Calder Cup playoffs. He had a lot on his plate there as a young guy. He handled that well.

It took time for it to come for sure. He stuck with it. He was drafted high, so you believe in his potential. You invest a lot in him. But credit to him. There were a lot of times when it was tough for him down in the AHL. He just stayed with it and continued to work. We asked him to put in the work both on and off the ice.

I can't remember exactly the time — it was certainly before I came into this position — when things really clicked for him at the AHL level. He was becoming quite a dominant player. I don't know what his age would've been at that time, but it started to come.

You could really see it blossom in terms of the player he was when he was drafted, but he was also starting to really become a great defender, which I don't think anyone would've said about him going into the draft. That is why he has really been able to have a solid foundation here to build upon.

Offensively, he was playing on the power play tonight and getting those extra looks. He can do different things for us on offense, too. But you don't get into those positions if you can't defend and help us in other ways. He can.
On the fourth line's play, including opening the scoring via Pontus Holmberg:
Joey [Anderson] drew a couple of penalties. He got an assist. The line got us going. They took a too-many-men penalty, which you don't want to see. But I thought we got good minutes from them.

It got harder to play them. New York, when they move Kreider down with Trocheck, has three lines that are really good and really dangerous. They didn't use their fourth line much, either. It was tougher to get them a lot of minutes.

From what we got from them, I was happy.
On Ilya Samsonov's 14-0-1 record at home and whether he is exceeding expectations:
We believed in him. We had high expectations. Nobody expects anybody to have a record like that. It is quite remarkable. It speaks a lot to his play. It speaks a lot to our team's play just the same.

It is another tough game for him. The margin for error is pretty thin. You have an elite goaltender and a countryman of his down the other end. Not unlike he did against the Islanders the other night, in both cases, he stood his ground and gave us an opportunity to win the game.

Is he exceeding expectations? We have high expectations. We really believe in him and his ability. We needed to get his buy-in and we needed him to put in the work that was necessary for him to really find a stable foundation and consistency in his game. He has done that.

That is why we have given him the runway here to stay with it.
On the goal Samsonov conceded directly off the faceoff:
It was an odd one for sure. It is something we are going to have to talk about just to make sure those details are dialed in both from the goaltender's perspective and the centerman's. But it is an oddity. It is something you don't want to become a habit, so we will talk about it. He got us on that one.
On Mitch Marner's overtime play and whether the Rangers were disoriented by the quick line change with Auston Matthews coming on the ice:
I am not quite sure what was going through their minds. We had just made a change with Auston coming on for David Kampf. That created a little bit of confusion, but [Marner] was able to attack the forward. A lot of times, something can break free there. Forwards more frequently make those mistakes.

A great goal to take it right across the crease and make good on it. It was a good process by the guys to set that all up. Mitch did the rest.