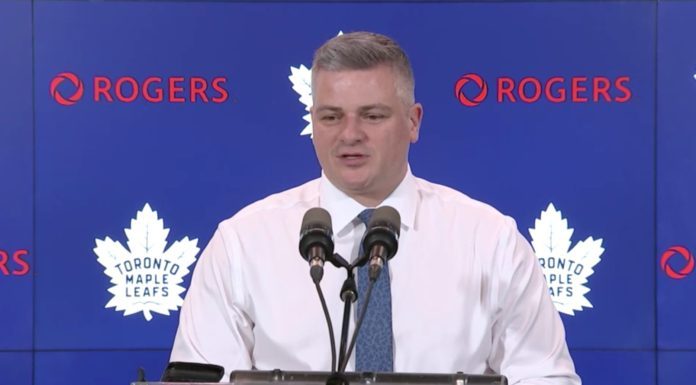 Sheldon Keefe addressed the media after his team's 2-1 overtime win over the Minnesota Wild which improved the Leafs' record to 36-15-8.
---
On the low-event battle:
It went the way we expected it to go. It was a game where we expected it to be tight. Every game Minnesota plays is tight all the way through. It is one play or mistake here or there that usually makes the difference.  That is kind of the way it worked out. There was not a lot of excitement there.

We gave up the one in the first period, but I liked how we played just as disciplined of a game. That is an elite defensive team. They play really hard and really adhere to their structure. Tonight, they were really dialed into that area.

They have a lot of defenders on forward, especially, that really clog up the middle of the ice and make it tough that way. We didn't have a lot of chances. We missed a few. Mitch's in the first period comes to mind. Maybe that would've changed the game a little bit and forced them to open up.

The fact that they came in and scored first means it is going to be really tough from there. I liked how we didn't allow them to get the second one. We earned the point.

We did a tremendous job in the overtime. I liked how we controlled the play, got the line change, and both Auston and Will attacked some tired people. Will just scored an unbelievable goal with such a great finish.
On the lack of easy offense in the game:
They are the number-one team in the NHL at defending the rush. They are not going to give you much there. If you look at how we played in Buffalo, we thrived playing on the rush.

It is sort of two opposite ends of the spectrum. Buffalo gives up a lot on the rush and gets a lot on the rush. It is a really wide-open game you are playing in. You come into this game, and it is going to be far different.

I thought we adapted to that, stayed patient, didn't get frustrated, didn't open the game up, and didn't take unnecessarily risky chances. Our power play — I would like to see it strike and win the game for us, but defensively, I thought we were right there with them in terms of the patience.

We needed to make a play to score a goal. It took us until overtime for Will to get it done there.
On Auston Matthews' offense drying up a little of late:
Nobody had a whole lot of activity going on here tonight.

I went back and watched a lot of our chances from the Buffalo game. We scored a lot of goals, so you kind of gloss over some of them, but I thought Auston had a couple of really good chances in that game — both for him to score and for him to set up others. He sent Willy in on a breakaway, and there were a couple of other opportunities where he made really good plays and it didn't go in for him either for him or the linemates he made plays to.

Some of that contributes to the offense drying up a little bit, but we obviously know he has another gear to get to. We have to help make that happen. Just like in the game today, with some patience and waiting for things to happen, sometimes you go through these and you have to work your way through it.
On Mark Giordano tying the all-time blocked shots record (since 2005-06) and his importance to the team:
He has been tremendous. We have talked a lot about the number of games we have lost on defense this year with the players that we have had out. He has just been so consistent for us.

Not a lot of bad happens when we are out there. He has given us his all. He plays with such intelligence. If there is ever a breakdown, he is doing everything he can to get in the way of the puck.

It is no coincidence that A) he has been able to play for a really long time, and B) that such an accomplishment comes out. As a defenseman who plays the way he does, it is a nice acknowledgment for him.
On William Nylander scoring his third overtime winner:
Today, he had to earn it. He had to earn the puck back.  It starts with him having a chance to really get them on the heels, and he attacked.

Credit to our players. As we know, early in the season, overtime was an issue for us. It wasn't going our way. We really talked about it a lot — a lot relative to the amount of time we normally spend on it. We asked the players to make some adjustments.

We changed our strategy in terms of how we start and how we deploy the guys. The luck has gone our way a little bit in terms of getting us more time with the puck. It has given more opportunities to players like Will to make plays like that.

It is a credit to the whole group today and the guys that are out there. O'Reilly starts it off for us. Liljegren and O'Reilly were both able to get a chance for us. Mitch got off. We are changing with possession on the offensive side of the red line with the puck. It gives more opportunities for those players to make those types of plays.

It is great to see. There is a lot that has to happen in a short amount of time to create those opportunities for those players. We were beating ourselves before we had a chance to make those plays earlier in the season. We have adjusted that. The players have really made good on it.
On how it's decided whether John Tavares or Ryan O'Reilly takes the faceoff on any given shift:
I just leave it to them to discuss it. It is a combination of keeping the opponents on their toes a little bit. They are not always seeing the same center.

We also want to keep John in rhythm taking faceoffs and staying consistent with them — both never knowing when you are going to rely on him and need him for a faceoff, and then on the power play, he starts the power play on the draw. You don't want it to be where he steps up for a big draw on the power play and he hasn't taken one all game.

We are trying to make sure he stays in there and gets some reps. It just so happens he is elite at taking draws as well. O'Reilly is out of this world on the dot since he has gotten here and over his career. We have lots of options there.

We are trying to keep John in a little bit of a rhythm there to make sure he is getting some reps.
On whether this was a good game to play before the road trip starts on Sunday:
We are playing teams now that are either in the playoffs or are really fighting and competing for the playoffs. It is a challenging road trip for us in terms of distance traveled and time zones. There are odd start times to games and all sorts of stuff that is going to be coming our way. That is not even to mention the quality of the competition.

Two points coming out of this night, and for it to be the type of game that it was — this is a big, hard, physical team — I think it sets us up well.

We will have a short practice tomorrow just to get the guys on the ice. It will essentially be a morning skate for us that we don't have the ability to have in Seattle with the 4 p.m. start. We have to travel out there and be ready to play.

Tomorrow, we will use the opportunity to recover from today, get set for Seattle at the same time, enjoy our flight, get out there, and we are back at it before you know it.