With the trade deadline now in the rearview mirror, the heavy lifting of Kyle Dubas' year is all but over.
This is noteworthy because – as everyone knows – the Leafs GM's contract is about to expire.
Whether the organization retains him will largely depend on the results in the spring, but it's not always as cut and dry as looking at the final outcome, which is why this topic warrants some discussion now – during the regular season after his deadline moves are complete.
This will mark the second deadline where Dubas really went all-in of sorts, taking big swings and adding throughout the lineup.
In his first season, Dubas acquired Jake Muzzin, which is a big addition but a move also made with an eye toward the future; Muzzin had term remaining on his contract, and the transaction was made with the idea of adding the former LA King for more than just one playoff run.
In his second season, Dubas opted not to buy. The team's performance was up and down, Mike Babcock was fired mid-season, and his players recently lost to David Ayers just before the deadline. It was enough for him to decide he wasn't spending assets on upgrading the current roster, which was a fair assessment.
Dubas challenged the team the following season to prove that he should bolster the roster at the deadline, and the players responded by winning the North Division handily and grading out well across the board. In a weak division, it would have been crazy not to buy. We all know the story from there.
Last season, the Leafs bought but didn't push all his chips in. Mark Giordano was a noteworthy pickup, and Dubas also made some fringe moves. It was enough to round out the roster, but it wasn't enough to say, "This is an all-in scenario."
With the dust now settled on his moves this year, the jury is still out on a number of decisions. No roster in the league is going to be perfect, especially not in a hard-cap system built to enforce parity.
A GM has to make his bets to shore up as many areas as possible, and Dubas has certainly made a number of them. Let's discuss.
The Goaltending
Supported by a strong checking team that controls the puck a lot, the goaltending has done its job this season.
The Leafs rank eighth in five-on-five save percentage, and there have been very few games where we could point to goaltending as the reason the Leafs actually lost a game. As a team, the Leafs are sixth in goals against per game, which is really a reflection of the team as a whole, but the goaltending has done its part so far.
The only goalies with pedigree who moved at the deadline were Joonas Korpisalo and Jonathan Quick. There was no real goalie market – it was fair to ride out the current goaltending in spring — but this decision was made last summer, and these were his choices.
Maybe Matt Murray will remain healthy and play well in the playoffs as he did earlier in his career. If not, they did a good job of platooning him with Ilya Samsonov, who is just 26 and is in the midst of a promising season overall. It has worked in the regular season, but of course, the question remains the reliability of their goaltending at playoff time.
Dubas, who had a pre-existing relationship with Matt Murray, bet on him to regain his form and stay healthy. At the most volatile position, it is a bet that could make him a hero or zero.
If Murray is hurt and Samsonov struggles, those are not exactly unpredictable outcomes. If Murray can stay healthy and the Leafs succeed in the playoffs, it's going to be a move fondly remembered for years to come.
The Core
After the Leafs lost to the Habs in 2021, Dubas emphatically doubled down on his support for the Leafs' core.
"For better or worse, I believe in this group and I believe that they are going to get it done and I believe that they're going to win. I understand that comes with certain doubt because of the fact that we have not broken through in the playoffs, but it's my belief that they will. I believe in them as players, I believe in them as people, and I know that decision lies on me and what the risk is for me. We're going ahead that way. So I'm comfortable with it."
In the regular season, the players have certainly rewarded his faith. Auston Matthews scored 60 goals last season. John Tavares remains productive. Mitch Marner is one of the best wingers in the league, and William Nylander has clearly ascended to another level.
In the playoffs, we all know the story to date. Sometimes these conversations about the core spin into strange directions, but moving one of his core forwards doesn't mean Dubas would have to fetch pennies on the dollar in the trade. They could have made a move in an attempt to balance out the roster differently or add certain elements to the team.
Ultimately, the reality comes down to this: At any point, management could have looked to shake up the group. If the core gets it together, finally breaks through, and Dubas is rewarded for his faith (and years of agony), it would be an incredible story. If the same story that has played out so many times now repeats itself yet again, the management group has to wear those failures, too.
Repeated failure by the core after resisting calls for change to the core for years would ultimately fall on decision-makers that stood by the group.
The Forward Depth
When the Leafs traded away Rasmus Sandin and received a first-round pick in return, many assumed the pick was going to be flipped for a forward. Ultimately, it didn't happen, but the reason many thought this would be the plan is that the forward group looks a little shallow still.
Any team that loses players such as Ryan O'Reilly and John Tavares to injury will feel it. Nobody is so deep as to be immune to these losses, but the Leafs were healthy prior to their last game in Vancouver, and Alex Kerfoot was on their top line. That is a notable depth problem.
This management group and coaching staff have remained loyal to Kerfoot to a fault. Elliotte Friedman recently reported that Dubas could have flipped Kerfoot's salary as part of the ROR trade, but they elected to sacrifice a draft pick and move Pierre Engvall instead.
ROR is clearly a quality addition and gives Sheldon Keefe a ton of options. If they keep their other top-four forwards in the top six, ROR's third-line linemates are really the question.
Calle Jarnkrok can score some, but he would probably slide into the top six in this scenario. Noel Acciari is a quality grinder enjoying a nice season. Sam Lafferty is a bit of a journeyman in the midst of a career year. David Kampf isn't much of a scorer, but he is a solid shutdown center, while ZAR is purely a defensive specialist. Alex Kerfoot is producing at a career worse rate.
There seems to be some hope that Matthew Knies can step right in and make some sort of impact, but this comes with all sorts of risks and is a big ask.
Overall, the team is ninth in goals per game, which would be their lowest goal-scoring ranking in Dubas' entire GM tenure. The Leafs have gone to Game 7 three times under Dubas and a winner-takes-all Game 5 once. They have three goals in those four games.
If the Leafs can't score yet again in a do-or-die game, the main reason will be the core – and probably the power play – but scoring depth up front would be the next culprit.
The Coaching Staff
This could be the subject of an entire article on its own. At this point, Dubas and Sheldon Keefe are tied at the hip, making this is one of the more interesting pieces to sort through.
Keefe has the highest points percentage of any coach currently in the league and any coach in the history of the league who has coached over 208 NHL games (Tom Johnson, at 208, has a higher percentage). But playoffs are a make-or-break time, and they haven't gone particularly well for Keefe. We won't rehash each playoff exit – and he definitely isn't solely responsible – but there are definitely areas where he would like a do-over, and I'd vehemently argue that he was out-coached in two of his three playoff series.
A consistent theme over the years is the team's power play falling off dramatically at the most important time of year. Over three playoffs with Keefe, the Leafs' power play has clicked at 14.1 percent. That percentage would rank dead last in the NHL right now.
Just this past week with the Leafs on a western Canada road trip – a tough one in terms of travel and jet lag – the team played three games in four nights and dressed 11 forwards. In the third game in Vancouver, the team played a lot worse as the game went on. Keefe's overthinking tendency seems to compound at springtime each year.
It would have been easy to keep the core and hire a new coach after a third straight playoff defeat, but Dubas has held firm on his bench boss. Just like with the core, it's going to either be a great story or a "fool me twice" scenario.
Keefe easily coached his best playoff series against Tampa Bay in 2022, and the Leafs are about to play the Lightning again. His first playoff took place in the COVID bubble, and the second one had no fans in the stands. The magnitude to which his top players have come up short has been hard to believe – that's more on the players than the coach – but the lack of adjustments coupled with some questionable decision-making are also factors.
From a GM's standpoint, this is high-stakes poker. We can easily see why Dubas would believe in: a two-time Cup-winning goaltender he has a history with (Matt Murray); a core that has largely been in the upper echelon in the regular season (the Leafs are fifth in points percentage over Dubas' entire tenure); his NHL forward additions, a needle-mover ROR, in particular; a team that was already very good, and one of the most successful regular season coaches in the history of the league.
There is a good case to be made on either side of the argument. Hopefully this year, Dubas, Keefe, and the Leafs as a whole land on the winning side of the story.
Quotes
---
"After we made the move with Chicago — the days all kind of run together, but I think that was Monday — we had a subsequent move to make to ready our team salary cap-wise. After kind of sorting through all of our options there, knowing we had some time before today, we made the moves on Tuesday — three separate moves in succession — to make it all happen.

Once we knew all of that, I kind of felt that — barring something outside of the box or completely unforeseen — this would probably be fairly light in terms of activity later in the week here."

– Kyle Dubas reflecting on the trade deadline
Many of us saw the Rasmus Sandin trade and believed the Leafs were going to take a swing at another forward, but it appears their strategy was to buy several pieces, become cap compliant, and prepare to sign Matthew Knies rather than add another NHL forward.
They could have added an extra pick instead of Erik Gustafsson, and unless he plays notable minutes in the playoffs (which should only really happen if injuries strike), it's going to be a small but predictable missed opportunity to add another prospect vs. a defenseman who shouldn't be in the lineup and likely won't be re-signed. 
I understand adding depth at an important position, but when he also traded for Luke Schenn and has Timothy Liljegren on the rsoter, the defense is eight deep, which is already a lot to manage. Making it nine doesn't give them a wealth of options so much as it creates a headache.
"His numbers aren't going to look good coming out of this one, but I thought he was excellent. There weren't very many easy shots that he faced tonight."

– Sheldon Keefe on Matt Murray's first game since January 17
If you wanted to take a positive from the loss in Vancouver, it was definitely Matt Murray's play. He was really good no matter the stat line. 
Since Murray was acquired, there have been two simple questions: Could he stay healthy (remains very uncertain)? Is he still any good (he is if he can stay healthy!)? 
It goes without saying a team needs good goaltending to go deep, and it would be a huge development for Murray to come back and get into a groove a month and a half before the playoffs start.
"This means a lot now. It's real special. I didn't know it would ever come full circle like this & pretty proud to have this logo on right now."

– Luke Schenn on returning to his home (away from home)

 
As a fan, this is exciting. There's something to be said for building some momentum and energy within the room and the fan base. I'm expecting a lot of energy in the arena on Saturday against Edmonton – the Leafs' first game in Toronto since February 24 (a gap of 15 days). Hopefully, the play on the ice matches the energy in the stands.
Tweets of the Week
---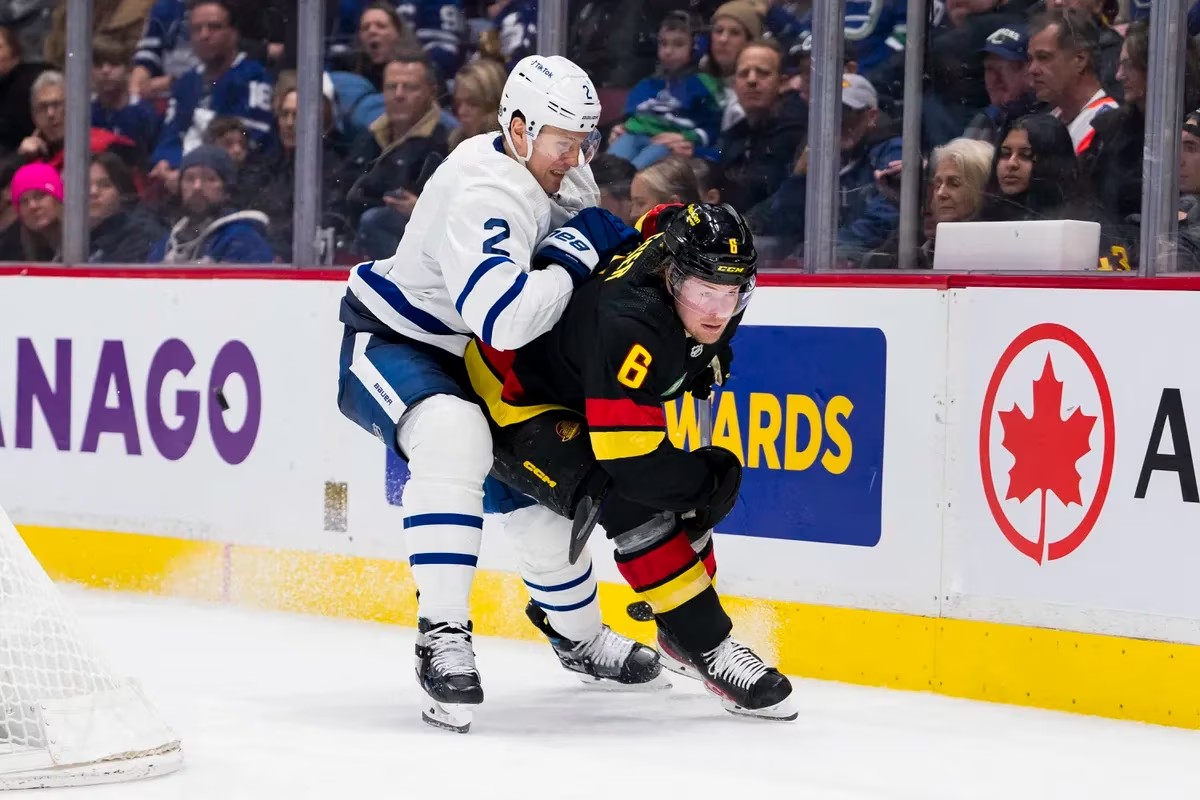 Bad game last night for the Leafs that doesn't really mean much on its own. Just funny that it seems every time the team creates the most excitement (all these trades, or elimination games, for instance) they then proceed to get nuked into orbit

— Ryan (@ryanfancey) March 2, 2023
I think there is something here. It's worthy of serious recognition and discussion at this point.
The number of no-shows in meaningful games has been too consistent of a pattern to simply ignore at this rate. Even without all the trades, a game against Edmonton is a marquee matchup – and has actually been one of the only rivalries the core has consistently gotten up for in the regular season. To call the effort poor would be an understatement. It was beyond disappointing, and Sheldon Keefe was about as upset after the game as he has been as Leafs head coach.
The no-show in the return to the Island for John Tavares, any number of playoff games… Whenever there is a big game of sorts, I simply have no idea what to expect from this team from an effort or quality of play standpoint, and that's probably the most disappointing thing of all.
At this point, they are going to have to prove themselves to change this narrative.
Goal differentials

Bruins +30
Lightning +25
Leafs +3 https://t.co/CtmEJtZYPO

— Sportsnet Stats (@SNstats) March 5, 2023
This has been a common theme for the Leafs, too. It's annoying, and it also makes it impossible to actually compete for the division title when the team wastes opportunities to rack up points as the division leaders do.
It would be the type of thing that costs them round-one home-ice advantage if Tampa Bay didn't suddenly start falling off of a cliff.
I hope Sandin racks up points and gets a big contract.

However, from the Leafs perspective, I don't think his point total means much. Gustafsson racked up points too.

The big questions are:
1) How he fares defensively in a top four role.
2) How the Leafs use the pick. https://t.co/UP7i0aIYcG

— Kevin Papetti (@KPapetti) March 6, 2023
This is a fair summary. Truthfully, picking up a few points is irrelevant. Erik Gustafsson had a great partial season with Washington production-wise, and he really shouldn't be in the Leafs' lineup at all. If Sandin turns into a two-way horse, it's a different story.
Five Things I Think I'd Do
---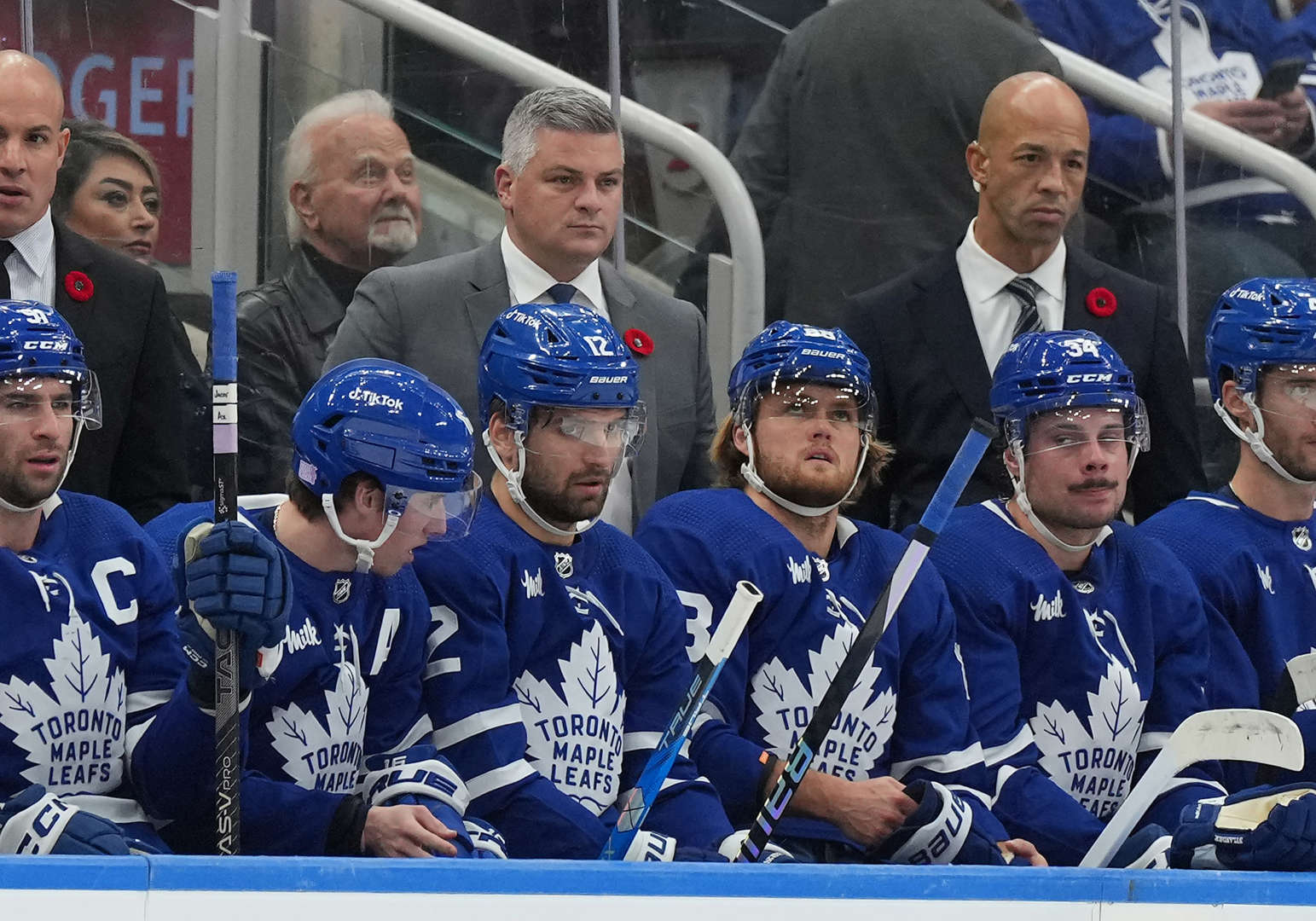 1.  I think running 11 and 7 is not helping this team at all. Forwards are constantly moving around, and there is an awkward logjam on defense that isn't bringing out the best in the overall group. I understand wanting to give Erik Gustafsson ice time to adjust to his new surroundings, but he's clearly on the outside looking in. They should just be realistic about it and sit him until he's needed.
2.  I do think it's concerning that Timothy Liljegren is sitting overall. Generally speaking, he has been very good this season and brings a little bit of everything to the table. There are not seven defensemen on this team who are better than him.

After he was a staple in the lineup this season, I don't know how this wouldn't frustrate Timothy Liljegren. I would be rotating between him, Luke Schenn, and resting Mark Giordano.

I know Giordano has indicated he doesn't want to sit, but again, the team needs to save the player from himself at some point. His play has certainly tailed off as the season has progressed, and his ice time has slowly trended down. His 15:02 against Vancouver was his second-lowest total of the season. He's played 20+ minutes just once in his last 13 games. 
3.  I also think I'd like to see Jake McCabe – Justin Holl at some point. It makes sense as a potential shutdown pairing, and if it works out well, the Leafs can reunite Morgan Rielly – TJ Brodie – a notable net upgrade to the top four overall. That allows them to reunite Mark Giordano – Timothy Liljegren, and if Liljegren struggles or the Leafs want to change the look, they have a good option in Luke Schenn to mix it up.

4.  I think demoting Michael Bunting is fine and well earned, but I would rather give Calle Jarnkrok a look alongside Auston Matthews than play Alex Kerfoot there. To say Kerfoot looks out of place is an understatement.

Kerfoot is pacing for a 34-point season and has seven goals. David Kampf has seven goals, Zach Aston-Reese has five, and so does Timothy Liljegren, for reference. He's not a skilled playmaker, and he's certainly not a goal scorer or a defensive stud.

Jarnkrok isn't notably better across the board, but he can shoot at least, which makes him a possible fit up top considering the other options are basically Sam Lafferty, Noel Acciari, or loading up with William Nylander/John Tavares.

5.  With the injuries, I think I'd like to see the Zach Aston-Reese – David Kampf – Noel Acciari receive some serious run to see if it can be a useful defensive/grind line. It also gives Pontus Holmberg an opportunity to play with some more offensively-inclined players in Sam Lafferty and Michael Bunting/maybe Alex Kerfoot.

Holmberg is more of a skilled player than a shutdown center, so it would be nice to see what he can do in that spot rather than where he has played with the Leafs – mostly on the fourth line with ZAR.