Since Kyle Dubas was let go last week by the Maple Leafs, speculation about a replacement for the GM position has largely centered on one name: Brad Treliving.
The former Calgary Flames GM has been connected to the Leafs for some time in the media. At the very least, he appears to be among the top candidates in the search. Given Brendan Shanahan's stated view that "experience" would be an attractive quality in the new GM, we must take established former managers like Treliving seriously.
Today, we'll evaluate Treliving's overall record, including his drafting, signing, trading, and the fit in Toronto.
Background on Brad Treliving 
---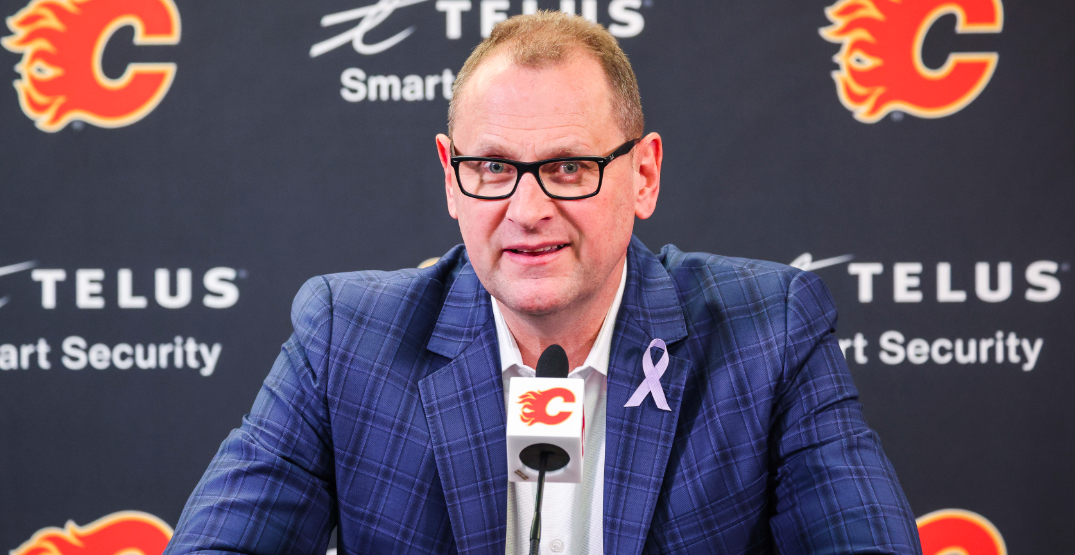 Before we delve into the individual facets of Brad Treliving's managerial tenure in Calgary, let's cover his background more broadly for a moment.
Treliving, son of Boston Pizza owner Jim Treliving, was a minor-league defenseman in the WHL once upon a time, eventually bouncing around the ECHL/IHL/AHL in the 90s. Never drafted, Treliving hung up his skates in the summer of 1995 at age 26, presumably when it became apparent a future in the NHL was not in the cards. He then helped found the Western Professional Hockey League (WPHL) and presided over its brief five-year lifespan before the league was merged into the Central Hockey League (CHL).
A couple of years later, Treliving joined the Phoenix Coyotes as Assistant General Manager under Don Maloney. Treliving was in charge of the San Antonio Rampage (at the time Phoenix's AHL affiliate), a job he'd hold for over a decade. When the Coyotes changed their AHL affiliate from the San Antonio Rampage to the Portland Pirates, Treliving took over that team as well.
While with the Coyotes, as you may remember, the team did not have a tremendous amount of on-ice success. However, the three-year run in the early 2010s — the most success the franchise has had in its quarter-century in Arizona — earned the Maloney-Treliving partnership recognition league-wide. Maloney won the NHL's first GM of the Year award back in 2010 when Phoenix qualified for the playoffs with 100+ points, and after their run to the Western Conference Finals in 2012, Treliving became an attractive GM candidate.
On April 28, 2014, Treliving was hired by the Calgary Flames as General Manager, taking over a team that had fallen on hard times. The club recently finished with just 77 points in its first post-Kiprusoff/Iginla season and was looking for direction amid a rebuild of sorts. Treliving was handed a team with some decent defensemen on the roster in Mark Giordano, TJ Brodie, and Kris Russell. There was also a rookie Sean Monahan in the fold, and the organization was ready to bring top prospect and Hobey Baker winner Johnny Gaudreau over from the NCAA (he'd played one game at the tail end of the 2013-14 season). It was not a great situation, but it was also not a disastrous one, either.
Brad Treliving at the NHL Draft
---
Great hockey teams are built through the NHL Draft, so for me, it's the most important angle to look at first when assessing a GM, even if it may not be the most pressing one to the Toronto Maple Leafs' current situation. Treliving's history at the draft has its hits and misses like any GM, but I'd argue it is one of the better ones out there, with some home runs to note.
His first draft, 2014, was not one of his best. Amid what was one of the more lackluster top sevens of a draft in recent memory, Treliving selected Sam Bennett fourth overall, a player who never really clicked in Calgary. Bennett has found new life in Florida after moving on from the Flames, but even still, his overall career hasn't lived up to the calibre of player you'd expect from a pick that high.
On one hand, this wasn't a homerun selection. On the other hand, the next three picks after Bennett were worse (Michael Dal Colle, Jake Virtanen, Hadyn Fleury). It wasn't until William Nylander and Nikolaj Ehlers at picks eight and nine that we see quality NHL players on the board after Bennett (weird year!). Perhaps the bigger issue with the Flames' 2014 draft was not getting much out of the subsequent picks; the draft was a miss overall.
2015 and 2016, though, were virtuosic. Even without a single pick in the top 50 of the 2015 draft, Treliving managed to snag three legitimate NHL players: Rasmus Andersson, Oliver Kylington, and Andrew Mangiapane. Out of five total picks, that's a hell of a haul.
2016 was even better, with only a few complicating factors preventing it from standing up as one of the best drafts of the past 10 years. Of his first four selections in the draft (picks 6, 54, 56, 66), Treliving came away with Matthew Tkachuk, Dillon Dube, and Adam Fox. That's a legitimate middle-six forward, a superstar forward, and one of the three or so best defensemen in the game. The Flames snagged a Norris winner and a Hart finalist in the same draft, plus a solid 40-point scorer as the cherry on top.
Treliving didn't get to reap all the benefits of these scouting finds as Adam Fox refused to play for any team that wasn't his hometown New York Rangers and Matthew Tkachuk quit on the franchise before he took the final step to his current form (neither player's desires have been linked to Treliving in any way), but we have to recognize the success mining talent.
The 2017 and 2018 drafts were not nearly as strong, and the biggest reason is the fact that Treliving made one selection inside the top 100 of either draft. Those second and third-rounders saw him reap big returns on the prior two drafts, but he didn't take a single pick in either round in 2017 and 2018. His first-rounder in 2017 was used on Juuso Valimaki, who hasn't panned out (partially due to injuries), and the fourth-rounders and beyond have largely come up empty, although Adam Ruzicka has reached the NHL.
For 2019 and later, it is a bit early to determine much of anything. 2019's first-rounder, Jakob Pelletier, has put up strong numbers in the AHL but has yet to click in the NHL in large part due to Darryl Sutter's profound opposition to the existence of rookies on his teams. Next season ought to be a better indicator on Pelletier.
The same could be said about 2020 first-rounder Connor Zary (who also has been solid in the AHL), 2020 third-rounder Jereme Poirier, and of course, 2019 seventh-rounder Dustin Wolf, who is one of the very best goalie prospects not in the NHL (also playing in the AHL).
The next year or two will give us a much better sense of how well Treliving drafted in recent years, but there are worse places to leave a franchise than with an AHL affiliate teeming with prospects ready to finally receive an opportunity in the big leagues.
Brad Treliving and free agency
---
If you want a redemption arc, this thread line may be for you. The first several unrestricted free-agent periods for Brad Treliving were ugly. The summer of 2014 included okay contracts to Deryk Engelland and Jonas Hiller (neither were great, admittedly) but a massive stinker to Mason Raymond — over a three-year contract, Raymond produced only 16 goals in 86 games before he was waived and then bought out two years later.
2015 was quieter, with a five-year, $21M deal with Michael Frolík representing the main acquisition by Treliving. Frolík gave the team decent, 15-goal/35-point seasons and was eventually flipped for a fourth-rounder in the contract's expiring season. Nothing to complain about here.
Unfortunately, the summer of 2016 saw Treliving participate in the infamous UFA fail-a-thon, tossing four years and $18M at Troy Brouwer, who was turning 31 that summer. Brouwer was, at his peak, a 20-goal, 40-point type of player, and the Flames were buying his 31-34 seasons when aging curves suggested a steep decline was imminent. Unsurprisingly, Brouwer indeed declined steeply, scoring 19 goals combined across his first two seasons before he was bought out.  The other signings that Treliving made that summer — mostly one-year deals to players like Chad Johnson, Alex Chiasson, and Kris Versteeg — were acceptable, but it can't make up for the fact Brouwer was such a disaster.
Treliving was again quiet in 2017 while re-signing his own players before diving back in and authoring another gaffe the next year (2018). Derek Ryan at three years, $9.375M stands up as a steal, but signing James Neal for five years, $28.75M ($5.75M AAV) was possibly Treliving's worst blunder yet.
Neal was coming off a 25-goal, 44-point season with the expansion Golden Knights, but again Treliving seemed to be unaware of the aging curve as Neal was turning the same age in the fall that Brouwer was two years prior (31). Neal's first season was a catastrophe, — only seven goals and 19 points — and the team ended up flipping him for a fellow terrible contract, Milan Lucic, one year later (Neal was later bought out by Edmonton in 2021).
The pattern of quiet odd years followed by busy even years continued in 2019 and 2020. The team abstained in '19, bringing in Cam Talbot on a one-year deal as the biggest move before turning flashy again in 2020. Treliving zeroed in on the cap-strapped Canucks, scooping up defenseman Chris Tanev for four years/$18M, and goaltender Jacob Markstrom for six years/$36M.
Tanev has turned out to be a tremendous signing — a huge asset to Calgary's defense as one of the best pure shutdown defenders in the league and a clean replacement for the departing TJ Brodie. Markstrom has provided more of a mixed return.
The Swedish goaltender's 2021 was a letdown followed by a superb (Vezina runner-up!!) 2022, but he was disappointing again in 2023. To this point, a .907 SV% in Calgary is well below what they would expect to receive out of a $6M cap hit, but his 2022 season was what they paid for and then some. If anything, Markstrom's bumpy ride is a better case for not signing any goalie except the rare few to that amount of money than it is a specific argument about Markstrom at all. I don't think anyone would be surprised if Markstrom bounces back to awesome status in 2024 (that's how life goes in net).
The last two summers have seen Treliving dip into free agency for one big get each offseason. In 2021, he splurged for Cup champion Blake Coleman of Tampa on a six-year, $29.4M deal. Coleman's offensive totals in Calgary have been in line with what was expected to this point while chipping in defensively, so I don't think there's anything terribly wrong with that one.
Last summer, Treliving signed Nazem Kadri to a 7x$7M contract, a deal that will likely age poorly since Kadri is already 32, but given presumed ownership directives (which we will get into shortly), Kadri made a ton of sense since he was the top center on the market.
Trader Treliving
---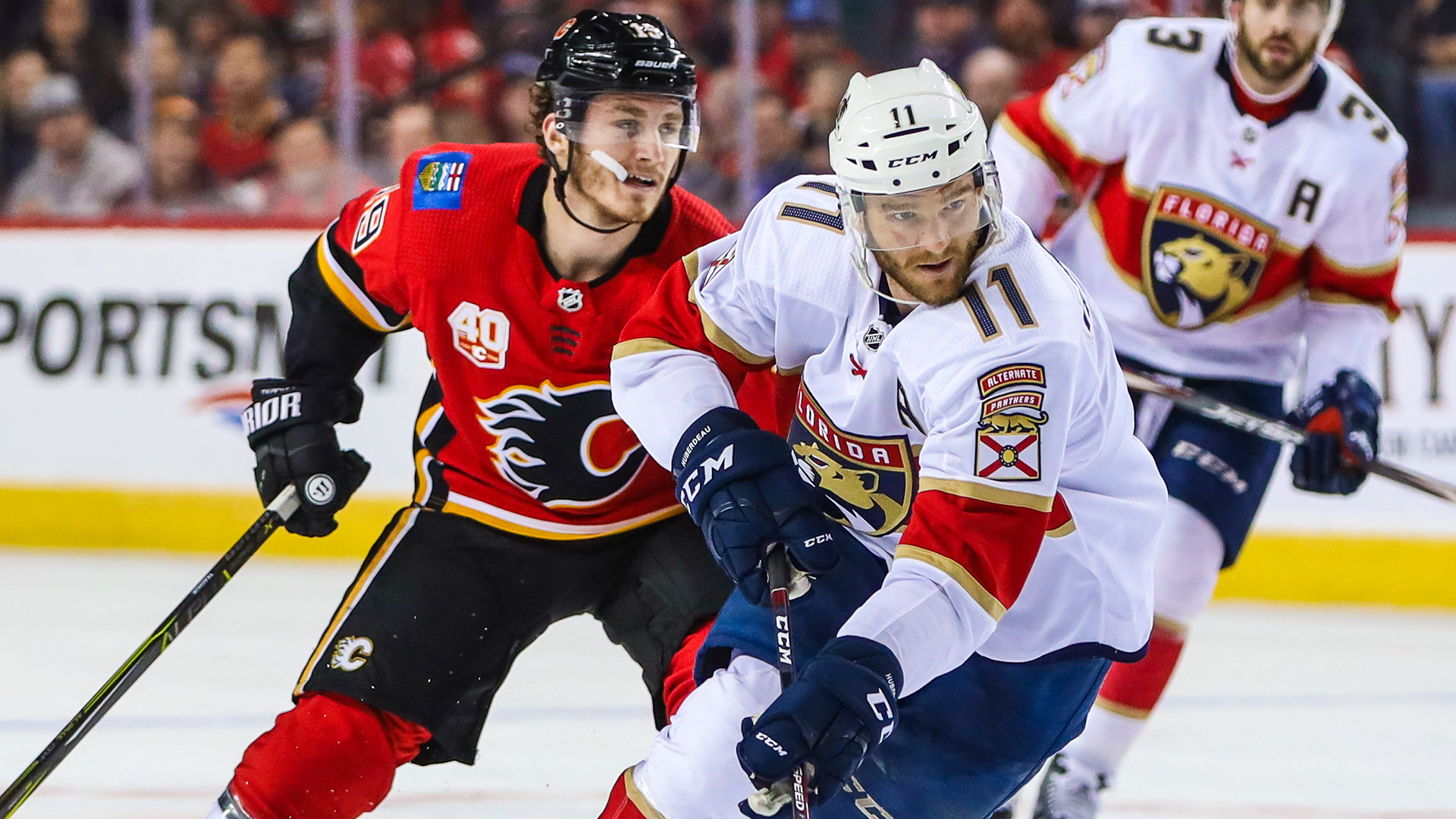 This is where things get spicy. Treliving has been involved in a number of big-time trades, starting with the first Dougie Hamilton trade in the summer of 2015.
Treliving surrendered his first-rounder (15th overall) and two seconds to acquire the 22-year-old defender, who was a cap casualty in Boston. The trade was a terrific one as Hamilton was one of the best goal-scoring defensemen in the league during his time in Calgary, received Norris Trophy votes twice, and graded out tremendously in the analytical models. For a mid-first-round pick and two seconds, acquiring a top-notch young defenseman is a tidy bit of business.
In 2016, with the Flames out of the playoff picture, Treliving sold off pieces at the deadline, fetching a prospect, two seconds (one conditional), a fourth, and aging Nicklas Backstrom (the goalie) in exchange for Jiri Hudler, Kris Russell, and David Jones, all of which expiring contracts. Those are fine/rather routine trades.
The summer of 2016 saw Treliving attempt to fix his goaltending problem by adding Brian Elliott in exchange for a second and a third. Elliott was not the solution, struggling out of the gate and finishing out a bit below league average. It wasn't a terrible bet to make in that Elliott had established a solid track record the years before, but on a one-year contract and at the expense of a second (one of which became Jordan Kyrou!) and a third, it was not worth it.
The summer of 2017 featured maybe Treliving's biggest mistake as a GM: trading a first and two seconds for Travis Hamonic. Over three seasons with Calgary, Hamonic was a decent defenseman who was used heavily (over 20 minutes per game all three years), but he posted middling to subpar play-driving numbers, impacts that had not changed much from his time with the Isles. Hamonic was not a star player, never received an awards vote in his career to that point, and had neither the young age nor the pedigree (as a former high draft pick) that Dougie Hamilton brought when Treliving made that move. He paid too much for Hamonic — especially when Calgary flamed out (ha!) in 2017-18 — and that first-rounder turned into a lottery pick (used to select Noah Dobson). You can swallow that price if the player is as good as Dougie Hamilton, but it's not nearly as fun when it's Travis Hamonic.
Treliving made another attempt to fix the goaltending situation in the summer of 2017 by trading Chad Johnson, a prospect, and a conditional third for Mike Smith. This one panned out better than the Elliott deal as Smith gave the Flames a great season in 2017-18 followed by an iffy one in 2018-19. Altogether, though, they didn't pay a huge price, and Smith posted a positive GSAx and a .909 SV% over his two seasons. It was no home run, but it was not a swing and a miss, either.
2018's offseason included what was Treliving's biggest trade at the time (before the one you're thinking about): Dougie Hamilton, Michael Ferland, and Adam Fox to Carolina for Elias Lindholm and Noah Hanifin. Fox had made it clear he was never signing in Calgary, so the Flames needed to move him. They packaged him with Hamilton and the 20-goal scorer Ferland for Lindholm — a 24-year-old center at the time — and Hanifin, who was a 21-year-old defenseman and a former top-five pick. This blockbuster is a bit difficult to assess, especially since Fox's asset value wasn't good given Calgary's lack of leverage. Carolina wasn't able to sign him, either (they sent him to New York one year later).
Here is what we can state conclusively: Ferland was a decent forward, but Lindholm was vastly better, playing at a 70+ point pace with strong defense over his time in Calgary so far. On the flip side, while Hanifin has been a strong top-four defenseman who can log 20+ minutes, he has not been the caliber of player Hamilton is to this point. Of course, Hanifin is four years younger with more team control (Hamilton ended up walking from Carolina as a UFA three years later).
The argument in favour of Treliving for this trade is that five years later, Lindholm and Hanifin are still key pieces in their 20s for the Flames, while none of Hamilton, Ferland, nor Fox were members of the Hurricanes even three years after the trade. Calgary got younger, and the best player in the deal, Fox, was never going to play for the Flames. It's not an easy deal to weigh, but I don't think we can conclude that it was any worse than a split decision in favour of Treliving.
A year later, Treliving's big trade of the offseason was the aforementioned bad contract swap of James Neal for Milan Lucic and a conditional third. Lucic had four years remaining at $6M, while Neal had four years remaining at $5.75M. The Oilers got one more good year out of Neal (19 goals in 2020) but then bought him out and ate the dead cap. The Flames let Lucic play it out as a vastly overpaid fourth liner with a 10-10-20 type line and poor on-ice impacts. Which is better? I'd lean towards Calgary; at least Lucic could play a fourth-line role, and they're the team that received the pick in the trade, but either way, this was always going to be near a wash.
The Flames didn't make too many trades under Treliving between the summer of 2019 and the summer of 2021, but his final 20 or so months were defined by many trades. The Flames made a series of swaps in the offseason of 2021, grabbing Tyler Pitlick from Seattle for a fourth, Dan Vladar from Boston for a third, and Nikita Zadorov from Chicago for a third.
Vladar has been a middling backup, and the Flames should recoup value when he is (likely) traded out this summer to make room for Wolf. Pitlick was packaged in a deal I'll get to in a second, while Zadorov has seen a renaissance in Calgary, suddenly becoming a rock-solid second-pair defenseman with size and PK ability. Overall, not too bad.
We've now reached the 2021-22 season. With the Flames looking like a Stanley Cup contender, Treliving went for broke. He shipped a first, a fifth, a prospect, and Tyler Pitlick to Montreal for Tyler Toffoli in a deal that turned out to be a heist.  Toffoli played 2.5 more seasons at just $4.2M remaining on his contract and has scored 45 goals in 119 games since coming over to the Flames (roughly 31 per 82 games). At that cap hit and with that term, it's a remarkably good contract, and given that the first-rounder was pick #26 in the draft, it's a massive victory for Treliving.
His other deadline deal for current Leaf Calle Järnkrok — sending a second, a third, and a seventh to Seattle — was less successful as Järnkrok didn't click for the Flames, but I respect Treliving's aggressiveness in trying to maximize what turned out to be the only prime crack at the Stanley Cup.
This leads us to the previous summer when Treliving executed the blockbuster trade of the year. For those who don't remember clearly, Johnny Gaudreau walked in free agency and Matthew Tkachuk indicated that he wanted out of Calgary as well, with most reports pointing to a desire to play in an American market. Tkachuk provided the team with a list of cities he wanted to go to, putting Treliving and the Flames in a tremendous bind. They had little leverage and a narrow group of suitors.
In my view, the team should've traded Tkachuk for the suitor who offered the best future assets and started a rebuild, but the reporting is that Flames ownership was not interested. They wanted to continue to compete, and given those constraints, it's hard to imagine Treliving could have fetched better value than Jonathan Huberdeau (who had just finished fifth for the Hart), MacKenzie Weegar (who had received Norris votes back-to-back seasons), Cole Schwindt (a meh prospect), and a 2025 first-round pick.
Everyone has fired off their takes about the trade in the aftermath of Tkachuk's heroic run leading Florida to the Stanley Cup Final, with the common sentiment being that Calgary and Treliving lost the deal due to the fact that they didn't end up with (by far) the best player in the deal. I don't disagree, but you're going to "lose" any deal under that definition when you're trading a player like Tkachuk. The Oilers were always going to lose the Wayne Gretzky trade.
But there are a few factors we have to keep in mind if we're breaking it down from Treliving's perspective. First of all, he never wanted to trade Tkachuk; the team's intention was to sign the player to a long-term deal, but Tkachuk wanted out. From that standpoint, limited to a list of suitors that Tkachuk was willing to sign a long-term deal with (thus inflating his value to the suitor), Treliving was again (like with Adam Fox) dealing from a place of major disadvantage. Again, my preference would've been to trade Tkachuk for futures, but that was not desired by ownership. Operating under the constraints at the time, Treliving fetched a surprising amount back for Tkachuk.
However, he's not completely out of the woods there. The extensions to Huberdeau and Weegar — especially Huberdeau — sully the deal significantly. Huberdeau did not fit in with Darryl Sutter's system, had a bellyflop of a season, and the team is now paying for his age 30-37 seasons at $10.5M. Treliving would've been better off either flipping Huberdeau mid-season or just holding off to negotiate an extension to see how the team and player would fit, which would've drastically lowered the price. Instead, he signed on when Huberdeau was at peak value
Weegar's deal (this is written by an admitted Weegar fan) appears quite a bit more efficient so far; his offense declined with the Flames, but he remains a strong defensive play-driver who can play inside the top four. At $6.3M, it should be fine so long as a new coach can open up his game some more.
Overall Assessment
---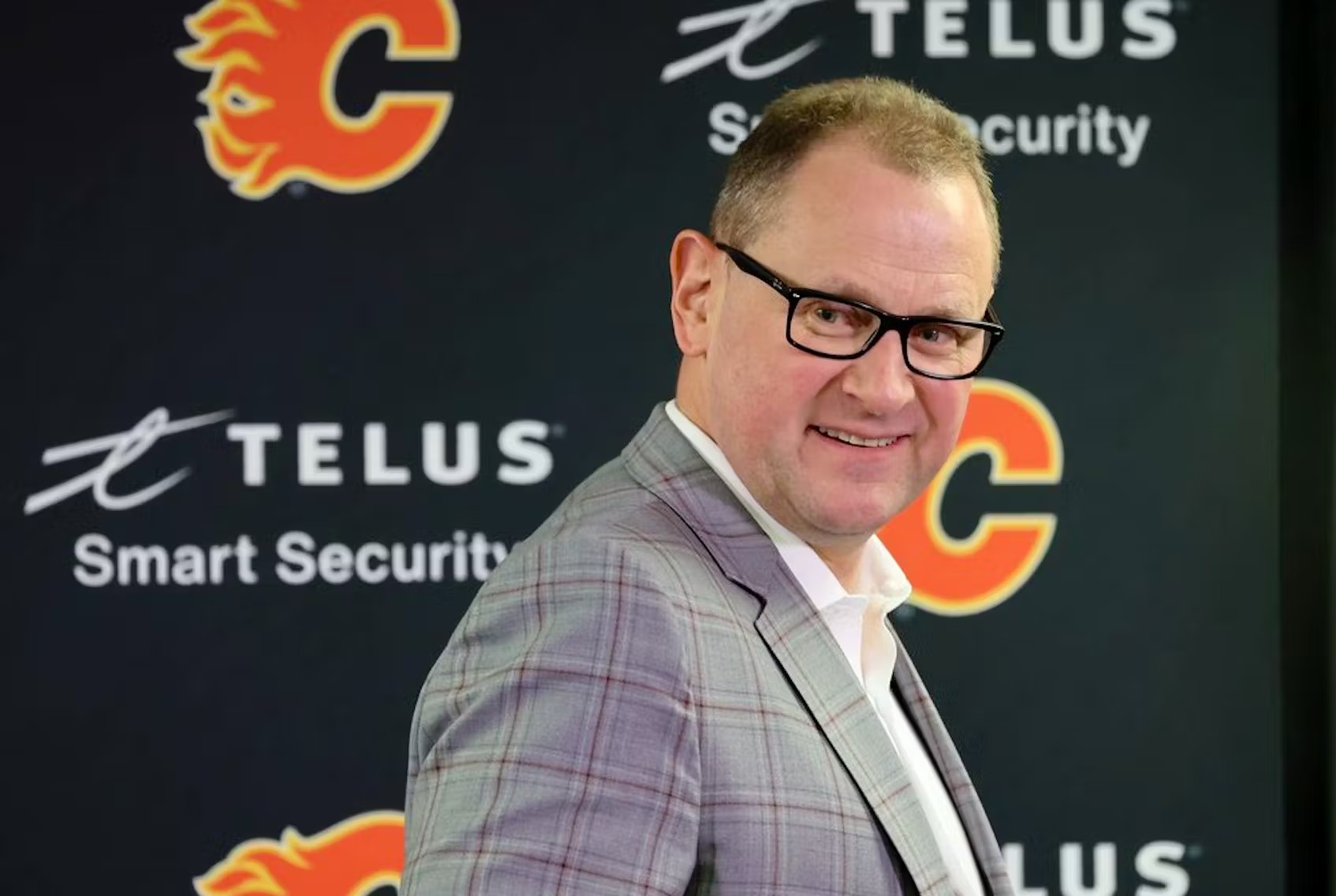 Having evaluated all three of these areas, what can we say about Brad Treliving's history as a GM? On the whole, we can argue that Treliving is a solid NHL manager — probably above average, although not dramatically so. To place him in a bucket with the likes of Jim Benning, Peter Chiarelli, Stan Bowman, Ron Hextall, or Dave Nonis — as some fans have — is a completely unfair description. However, at the end of the day, Treliving's teams never got out of the second round and won two total playoff series. There are mitigating factors at play, but he also made plenty of mistakes along the way that contributed to this reality.
The job that Treliving took over in 2014 was not an easy one — it was a bad team with an ownership that refused to properly rebuild. We can find articles dating back 10 years about Calgary's ownership and the lack of interest in a rebuild, with a throughline right up to the present when the team president is dropping quotes like "I'm not allowed to ever use the word 'rebuild'." Treliving was handed some nice pieces, but if we are making comparisons to Kyle Dubas, it is nowhere close to a similar story.
Over the course of his tenure (after the first few seasons once the team was really his), Treliving built a team that was pretty consistently inside the top 10 in expected goals for percentage at 5v5 and in all situations, but it was one that often lacked the on-ice record to support the underlying numbers.
Goaltending was a constant plague for Treliving, with Markstrom's 2022 year standing out as the rare exception to a long line of poor netminding showings. Treliving played whack-a-mole at the position, trying to source a solution from Kari Ramo to Jonas Hiller to Brian Elliott to Mike Smith to Cam Talbot until he finally threw the bag at Markstrom — and even that has been choppy.
Treliving's teams also only occasionally had great finishing, including this past season when they had the NHL's worst shooting percentage, although this can be much more clearly tied to a lack of elite offensive players (partially the result of rarely picking high in the draft) and perhaps coaching/systems considerations.
As a drafter, I'd say Treliving performed well above average. We'll see what the recent drafts bring, but his draft capital was substantially lesser than the 2015-16 drafts when he walked away with monster hauls.
Treliving's record with free agents is rather concerning, especially early on in his tenure. Between Raymond, Brouwer, and Neal, Treliving had to buyout/cap dump three free-agent forwards signed in a five offseason period. Brouwer and Neal's contracts were the result of a similar mistake (don't make sizable commitments to 30-something decent forwards in UFA, especially ones lacking in footspeed). His record in the last few UFA periods is better and more encouraging, but he still shows a greater aptitude for error than Kyle Dubas, although Dubas rarely had the cap space for big-time UFA signings.
On the trade front, Treliving has been pretty solid. Brian Elliott was a miss and the Travis Hamonic deal was a debacle. On the other hand, the trades to acquire Dougie Hamilton and Tyler Toffoli were heists. In between, there's the Adam Fox trade with Hanifin and Lindholm involved — where I think he probably came out ahead — and the Tkachuk trade where he did fine given the circumstances and the ownership mandate (extensions excluded). His tenure included several massive trades as well as long stretches where the team was very quiet in terms of major transactions.
Evaluating his player contracts is another tricky prism. Treliving was forced by his existing cap situation to go short-term on Tkachuk, eventually leading to the trade. That was a mistake. Of course, if Tkachuk had been interested in staying in Calgary long-term rather than returning to the US, it wouldn't really have mattered.
I'm not as categorical about the mistake to allow Johnny Gaudreau to play out his contract year. The common sentiment in Calgary seems to be that it was a major error because he left for nothing, but there is a point to be made that playing it out gave the Flames a legitimate shot at the Cup for the first time in a long time (and they may be waiting for some time for another one). That's nothing to scoff at.
Some people rag on Treliving for the Sean Monahan contract, but if we go back to when it was signed, based on Monahan's counting stat production, on-ice impacts, and age, there was no major reason to question the deal. Why Monahan's career fell apart so quickly — and in his prime years — is a bit of a mystery.
Overall, Treliving made plenty of errors, but there were some successes, too. He didn't drive the Flames into the ground, and they did win the Pacific Division twice while making the playoffs in 2015, 2017, 2019, 2020, and 2022 (which was ownership's big goal, after all). That's better than a number of GMs in the league, and it's why he does not belong in the Ron Hextall category.
I don't think Treliving would destroy the Leafs, and I'm definitely sympathetic to the point that GMs improve and can learn from their mistakes as they gain experience in the job. At the same time, I'm not incredibly enthusiastic about his candidacy; drafting — while incredibly important — was Treliving's strongest area, and it's the handling of player contracts and trades that are seemingly the more pressing issues in Toronto.
Is Brad Treliving better than Kyle Dubas? I'd wager probably not, but the hard thing about assessing GMs is that when we get outside the poles of the absolute best and worst, a lot of it comes down to context. Comparing GMs is a lot like comparing actors: a lot depends on the role, and unless they've acted the same part, we don't have a 1:1 comparison.
Kyle Dubas was handed a core of early-20s stars and asked to win a Cup. Treliving was handed a mishmash roster of different-aged players and told to immediately build a 95-point team that makes the playoffs. We could assume Dubas is better and replacing Dubas with Treliving is a downgrade, but we can't be 100% sure.
Out of all the "experienced" GMs, I'd have Treliving lower on my list than the likes of Mike Gillis or Doug Wilson, but perhaps in that next tier with Ray Shero. Hiring Brad Treliving probably wouldn't be a disaster, but there doesn't look to be much reason to plan the parade if he's hired, either.