The final player we're going to discuss in our Core Four Offseason Series is Mitch Marner, who we left for last for a number of reasons. 
Firstly, Marner has two years left on his deal. He also has substantial value in the trade market.
Fans can talk about trading John Tavares all they want, but at the end of the day, he's almost certainly not going to waive his NMC. Additionally, the Ryan Johansen and Kevin Hayes moves should demonstrate not only that the Leafs would have to retain but also that the return would be minimal. Tavares is still a highly-productive player, and the Leafs' focus should be on how to best optimize his usage.
Auston Matthews is clearly the player management needs to come to terms with and can't afford to lose. 
Ideally, William Nylander signs at a palatable number, but if his demands aren't reasonable, the Leafs need to be decisive and move on.
Brad Treliving addressed the contract status of both Nylander and Matthews earlier this week: "I feel very confident that we are going to get both players signed until proven otherwise. Hopefully, it is July [1], and if it is not, we will keep working away at it." Specifically on Nylander, Treliving made it clear where the club stands by directly stating, "Our focus, when you talk about Willy, is strictly to get him signed."
The Leafs need to be decisive in those negotiations regardless of the impending Marner situation, and by doing so, it will help lay out the pathway moving forward with Marner as well. 
Marner's previous contract creates a tricky negotiation
---
The Matthews and Nylander contracts will set the table for the potential Marner negotiation next summer. Matthews should set the bar for contracts within the organization as the face-of-the-franchise first-line center, and if the Leafs can lock up Nylander, it gives them some insurance as they draw a line in the sand with Marner in pursuit of a reasonable contract extension.
The last time the Leafs were in negotiations with Marner, he used the Matthews contract as his baseline, spoke with a number of teams about potentially signing an offer sheet, threatened to hold out and play overseas, and eventually signed a contract that was instantly well over market value. 
Who can forget his agent, Darren Ferris, speaking out on the day Matthews signed his contract, emphatically stating:
"Nobody else is taking a discount. And now you're asking (Marner) to take one again? It's nonsense. Mitch already did them a favour on the entry-level deal… Mitch will get what Mitch is due. But as far as the Maple Leafs, it's up to them how they value him. If it works out with them, it works out. We'll see at the end of the year what their position is and whether they're motivated to sign Mitch or not. It's totally up to them."
After all of that, Marner signed his big contract as well as a number of endorsement deals (he now reportedly leads the league in national player endorsements). We can only surmise that Marner and Ferris are going to ask for the moon and the stars once again.
With all the talk of Matthews potentially signing a league-leading contract and a Marner contract following the next season, consider that over the past five years, Marner has more points, plays more minutes per game, and plays in more situations than Matthews. When players are slumping – including Matthews himself – it is Marner that the coaching staff pairs them with for a spark. Why should he take significantly less than Matthews?
Truthfully, it's very difficult to place Marner financially. He is an excellent player, which sometimes gets lost in the conversation.
Over the past five seasons, only Connor McDavid, Leon Drasaitl, Nathan MacKinnon, and Artemi Panarin have more points than Marner. Elite company. He isn't exactly a slouch defensively, either.  Marner's production is almost identical to Panarin's over that span (127-297-424 vs. 128-300-428).
In most cases, if Marner were slotted in properly on his last contract relative to the market (meaning, in the $9-9.5 million AAV range), we would simply look at the Panarin deal as a baseline and work off of it while accounting for some level of inflation.
Panarin signed his contract as a UFA and was older with more pedigree to that point. We would expect him to earn a huge deal compared to an RFA situation where the team maintained control. If Marner's scenario now aligned with that contract, it would be a $2 million-plus raise reward for the player – something the Leafs would be able to work with. Instead, Marner signed for over $10.9 million while Panarin made himself the highest-paid winger at just over $11.6 million.
After six years of his current salary, is Marner going to take a roughly $700K raise while Matthews becomes the highest-paid player in the league and the salary cap rises? I suppose anything is possible, but it is really hard to envision that kind of scenario playing out.
On Brad Treliving "running it back" for the 2023-24 season
---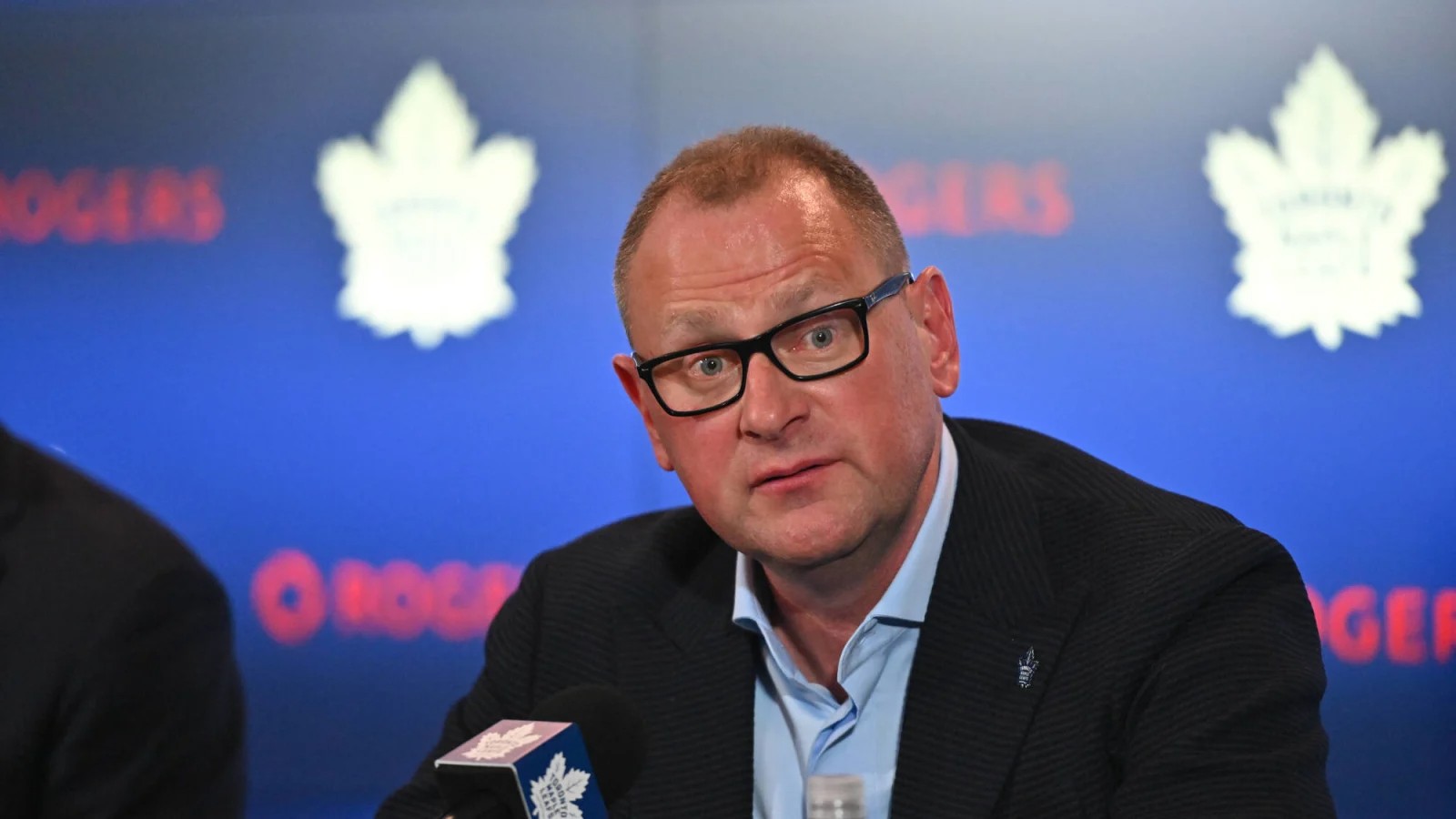 With two years left on Marner's contract, this isn't a pressing matter for the Leafs. They are rightfully focused on the Nylander and Matthews contracts. If they are able to wrap up those negotiations successfully in the coming weeks, though, they can then look around at the landscape with everything else settled into place with their core.
The reality is that they will almost certainly do nothing of note with their existing group if they can simply sign Matthews and Nylander to extensions. Sheldon Keefe is returning, Marner and Tavares have two years left on their contracts, and Morgan Rielly is in year two of his eight-year deal. Despite the GM change, the organization appears completely content with largely running it back in 2023-24. At this point, it feels like a season where Treliving is going to evaluate the group at hand while attempting to lock down two franchise cornerstones to deals that will age well no matter what.
The glass-half-full argument is that over the past three seasons, the Leafs with this core are fourth overall in the league in points behind only Boston, Colorado, and Carolina. Their special teams have been consistently excellent over that time; their power play ranks second and their penalty kill ranks ninth. Those are usually indicators of good coaching. The team has been a Cup contender for a number of years.
The glass-half-empty argument is obvious: the team's results every spring. They have won just one playoff series – and it was arguably one of the worst ones they have played – followed by a quick second-round exit this past spring. Top players consistently haven't delivered, and they have largely been out-coached in the postseason.
Fans are, somewhat understandably, tired of the same old song and dance, but Brad Treliving is new and probably wants to properly evaluate the situation for himself. In noting that he's retaining Sheldon Keefe for now, Treliving mentioned that they spent roughly 17 hours together over several days. Presumably, he wanted to thoroughly evaluate Keefe, but as we mentioned weeks ago, the reality of the situation is that the coaching market is mediocre this summer.
The time to make this move was last offseason when all of Bruce Cassidy, Pete DeBoer, and Barry Trotz were available. If you're Treliving, why would you dismiss a coach who should be able to coast into the playoffs in order to bring in a new coach you don't really want to hire but would represent a change for the sake of change? GMs only have so many fire-the-coach bullets in their chamber, and he probably doesn't want to waste one hiring from the current crop.
At the same time, Treliving acknowledged the need for change: "I think [Keefe] has a bright mind. He is open to change. He is strong in his beliefs, but he also doesn't think he has all the answers. One of the things we talked about is that I firmly believe we are all sometimes better in our second jobs… sometimes a little bit of newness or freshness can help — a little bit of change."
This reads to me like Treliving is viewing it as a second opportunity for Keefe by virtue of having a new boss. With that, changes will need to take place.
Whether this coaching decision actually makes sense or will work out is a different story worthy of a separate article altogether. For the time being, the idea of trading any star player – unless Treliving is absolutely forced to – before evaluating them under a new coach is farfetched. As the old saying goes, you can't fire all the players, so you fire the coach. Keeping the coach and moving out star talent has far more potential to blow up in Treliving's face.
Wrapping up the 'Core Four' series
---
In the event that Treliving decides to shake up the roster – both in financial structure and roster construction – moving Marner (provided Matthews and Nylander sign) likely represents their most viable path forward toward actually improving the team.
Matthews has the most trade value on the team due to his position and goal-scoring production, but beyond #34, it would currently be Marner – not only due to his play but because of the term on his contract. Depending on his contract demands, there is the potential for some additional value to be gleaned by removing that cap commitment altogether.
Those are very difficult trades to make, though, as the Leafs are almost certainly trading the best player in any deal involving Marner, and the team that trades the best player in a trade typically loses the deal. Treliving and the Flames just endured this experience with Matthew Tkachuk. The most infamous example might be the Joe Thornton trade by the Boston Bruins, who years later did the same thing with Tyler Seguin. Vegas just won a Cup with Jack Eichel leading them in scoring – another example of a star player acquired for multiple lesser pieces.
It's more of a conversation for next offseason and depends on a number of other factors that will shake out between now and then as well as Marner's exact contract demands. But the Matthews and Nylander contracts are certainly going to play a huge role in the Marner discussion. With Matthews, it will likely be used as a comparable (even if unfairly). With Nylander, either he stays and Treliving can show some teeth when pushing back against Marner's camp, or Nylander is no longer on the team and Marner really has him by the neck.
It might not be the answer most fans want to hear, but as I see it, this is the reality of Leafs' current situation.
***
Further Reading