Next season's Toronto Marlies are going to have a very different look when they hit the ice for competitive action in October.
Behind the bench, Greg Moore was relieved of duties and his replacement John Gruden will have two new assistants working alongside him. On the ice, the free-agency period has seen many former Marlies find a new home away from Toronto, and as of yet, there haven't been as many of the high-profile AHL additions as expected.
Goaltending
Keith Petruzzelli | Dennis Hildeby | Luke Cavallin (AHL) | Dryden McKay (AHL)
---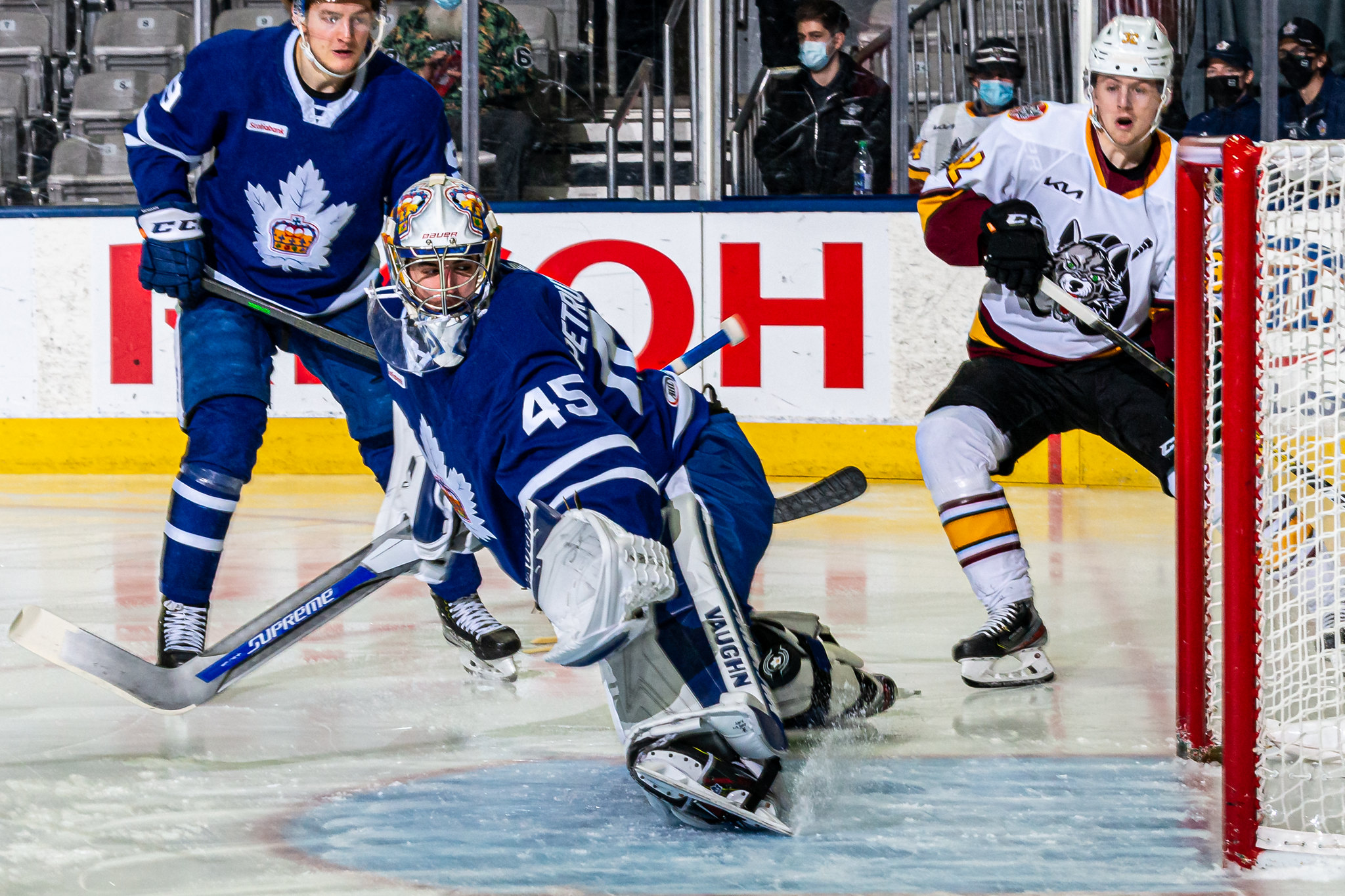 It wasn't a surprise to me when Erik Källgren opted to sign with the New Jersey Devils. Joseph Woll has usurped the Swedish netminder as the next in line, and I have to imagine that Källgren still believes he has a shot at becoming an NHL (backup) goaltender – something the Maple Leafs simply could not offer or guarantee him any time soon. Woll's promotion to the NHL in 2023-24 is all but set in stone as the organization would/should not risk losing him on waivers.
Although Vyacheslav Peksa and Artur Akhtiamov are both signed to NHL entry-level contracts, according to Hayley Wickenheiser, the pair will be playing in their native Russia this season: "They will be back to Russia and we will follow them from afar. The key for them will just be playing time in their development."
That leaves the organization with four goaltending prospects in North America, albeit with only two of those on NHL deals. Luke Cavallin and Dryden McKay are entering the second year of their respective AHL deals and look set to mind the twine in Newfoundland.
As of mid-July, it appears that Keith Petruzzelli and Dennis Hildeby will battle it out for the Marlies' net throughout 2023-24. The former enters the second and final year of his entry-level contract with his Toronto career somewhat on the line.
After a strong start to his last campaign, Petruzzelli's lack of ice time and opportunities resulted in some inconsistent performances to finish out the season.  Meanwhile, Hildeby is somewhat of a wildcard in what will be his first full season playing in North America.
The 2023-24 campaign represents a substantial opportunity for the Swedish native to make his mark in the organization and stake a claim for the #3 spot on the depth chart. The Toronto organization hasn't had so many promising goaltenders in the pipeline in recent history, and Hildeby is well aware that if he fails to perform, the two goaltenders from Russia could leap over him in the pecking order.
Defensemen
William Lagesson | Maxime Lajoie | Topi Niemelä | William Villeneuve | Mikko Kokkonen | Marshall Rifai | Matt Hellickson (AHL) | Tommy Miller (AHL) | Matteo Pietroniro (AHL) | Nolan Dillingham (AHL)
---
The amount of turnover on the blue line has been substantial this summer, with management making some big decisions regarding former prospects.
Experienced defensemen Carl Dahlström (Färjestad BK/SHL), Victor Mete (Philadelphia Flyers), and Jordie Benn (UFA) have all departed. The patience shown to Mac Hollowell was eventually exhausted as he left to join the New York Rangers.
Two players who I was somewhat surprised to see move on to pastures new were Filip Král (Pelicans/Liiga) and Noel Hoefenmayer (Edmonton Oilers). Král struggled with injury during his time in Toronto, but in my opinion, he was a prospect worth staying patient with; he possesses the skill set to play in the NHL one day.
Hoefenmayer is a curious case. His last season was a tale of two halves. The first was excellent, with the defenseman racking up points for fun and producing much-needed offense from the blue line. In the second half, he was misused by Greg Moore — often playing on the wrong side (something he clearly wasn't comfortable with) — and appeared to lose his confidence. My educated guess is that Toronto offered him another AHL deal, but you cannot blame the player for taking an NHL contract with a fresh start to boot.
Axel Rindell will spend the 223-24 season on loan with Timrå IK (SHL).
The Marlies' defense is likely to be anchored by two players brought in on NHL deals: William Lagesson and Maxime Lajoie have played 400-plus AHL games between them, amassing over a combined 200 points.
Topi Niemelä, William Villeneuve, and Mikko Kokkonen will all enter the second season of their entry-level deals. The former will be the most talked about and viewed prospect on the Marlies in 2023-24.
Marshall Rifai impressed on an AHL contract last year and earned himself an ELC.
The rest of the defensive depth chart is composed of AHL contracts. Returning on one-year deals are Matt Hellickson, Tommy Miller, and Matteo Pietroniro. Of those three, I think Miller has the most upside, but all are a good bet to spend the bulk of the campaign in the ECHL.
The surprise at the party could be Jonny Tychonick, and I would not be shocked if you don't recognize the name. A 48th overall selection by the Ottawa Senators in 2018, Tychonick was signed to a two-year AHL deal by the Marlies at the end of last season. After joining the club on a try-out contract, the Calgary native made an immediate impact following his reassignment to Newfoundland — five points (2G/3A) in seven regular season games followed up by 16 points (1G/15A) in 15 playoff outings for the Growlers.
The last player to mention is the recently signed Nolan Dillingham, formerly of the Sarnia Sting, who was the player that delivered a hit in a development camp scrimmage that left Roni Hirvonen with a concussion. My expectation is that he will spend his rookie year in the ECHL.
Forwards
Bobby McMann | Pontus Holmberg | Alex Steeves | Max Ellis | Dmitri Ovchinnikov | Kyle Clifford | Ryan Tverberg | Braeden Kressler | Ty Voit | Roni Hirvonen | Nick Abruzzese (RFA) | Veeti Miettinen (Unsigned) | Logan Shaw (AHL) | Joseph Blandisi (AHL) | Zach Solow (AHL) | Keenan Suthers (AHL) | Grant Cruikshank (AHL) | Jackson Berezowski (AHL) | Brock Caufield (AHL) | Neil Shea (AHL) | Tate Singleton (AHL) | Tyler Weiss (AHL)
---
The only high-profile departure up front is Semyon Der-Arguchintsev, who opted to sign with Traktor Chelyabinsk of the KHL. Radim Zohorna has rejoined the Pittsburgh Penguins and Marc Johnstone followed in tow on an NHL contract signed by former Leafs GM Kyle Dubas.
Other departing players who were on AHL deals include Pavel Gogolev (Sibir Novosibirsk), Zach O'Brien (Slovan Bratislava), Graham Slaggert (Rochester Americans), and Brett Budgell (Iowa Wild).
At the time of writing, Jack Badini, Orrin Centazzo, and Ryan Chyzowski are unrestricted free agents. Veeti Miettinen is eligible to play in the AHL next year, but he is yet to ink a deal with the Toronto organization. The last player to mention is Nick Abruzzese, who is a qualified RFA but hasn't agreed to terms yet on a new contract.
The Marlies might be lacking in firepower depending on who is reassigned to them in October.
Bobby McMann and Pontus Holmberg will be looking to step up to the Maple Leafs permanently. We could also count Alex Steeves in that category as he enters the final season of his entry-level contract. Max Ellis and Dmitri Ovchinnikov are similarly in the last year of their ELCs. Ellis was impressive when given an opportunity higher up the lineup late in the season, and it's difficult to know what to expect from the enigmatic Ovchinnikov.
Veteran winger Kyle Clifford is a good bet to remain at the AHL level, but hopefully, it's in a role more suited to his skill set.
The four rookies in Ryan Tverberg, Braeden Kressler, Ty Voit, and Roni Hirvonen are likely to receive ice time at the AHL level to start the campaign. If he recovers from the concussion with no lingering issues, Hirvonen should be able to hit the ground running having already logged over 200 games in the SM-Liiga.
Logan Shaw returns as captain for the second season of a three-year deal with the Marlies. Also among the leadership core, the return of Joseph Blandisi on another one-year AHL contract is a welcome sight. Not only can he play up and down the lineup and on both special teams, but he also provides a consistent veteran-leadership presence for the group.
Zach Solow and Keenan Suthers return on AHL contracts with Grant Cruikshank, who penned his deal at the back end of last season.
Toronto recently signed five rookies out of college and the CHL: Jackson Berezowski (Everett Silvertips), Brock Caufield (Univ. of Wisconsin), Neil Shea (Sacred Heart Univ), Tate Singleton (Ohio State Univ), and Tyler Weiss (Univ. of Nebraska-Omaha). One of the five aforementioned could make the AHL roster to begin the season, but my expectation is all five head to Newfoundland to gain pro experience.