Over the past week or so, we have gained more clarity around the Maple Leafs' salary cap situation with the announcement of Matt Murray's placement on LTIR.
Our focus previously was on a Murray buyout and the next steps in anticipation of that move. Ultimately, I didn't assume that Murray would be willing to take a year off (he dressed as the backup at end of the playoffs, and he's still just 29 years old), but it does make sense from his perspective. I wish we discussed that possibility more at that time, but now that we know this to be the case, we can discuss the situation more definitively. 
If bought out, Murray stood to lose $2.67 million of his $8 million in remaining salary. There is no chance he would have made that money back in free agency. It has been a stunning fall for grace for a player who won back-to-back Cups at 21 and 22 years old. At 26, he signed a four-year, $25 million deal, and at 29, he'd likely have to sign some sort of league-minimum/AHL-type deal and work his way back up the ladder or take advantage of a lucky break (i.e. injuries in front of him) to become a starter in the league again. 
After this contract expires, Murray will have made roughly $37 million with two Cups to his name. He has suffered multiple concussions, among other nagging injuries. Maybe he simply doesn't have the desire to yet again go down the road of trying to build himself back up in terms of his health and form.
In any event, it does help the Leafs financially as they won't be burdened by a $2 million penalty against next season's cap. In the meantime, it leaves them roughly $500K over the salary cap with a 12 forward, seven defensemen (including Conor Timmins), and two goalie roster (with Joseph Woll over Martin Jones). That, of course, means something else is going to have to happen at some point.
They could hypothetically dress a minimum roster by waiving Timmins and running with 12 forwards, six defensemen, and two goalies. Should an injury occur (placing a player on injured reserve), the Leafs would have the cap space to call up a player and still dress a full roster.
That's not an ideal situation, though. 
The downsides of running a 20-man roster
---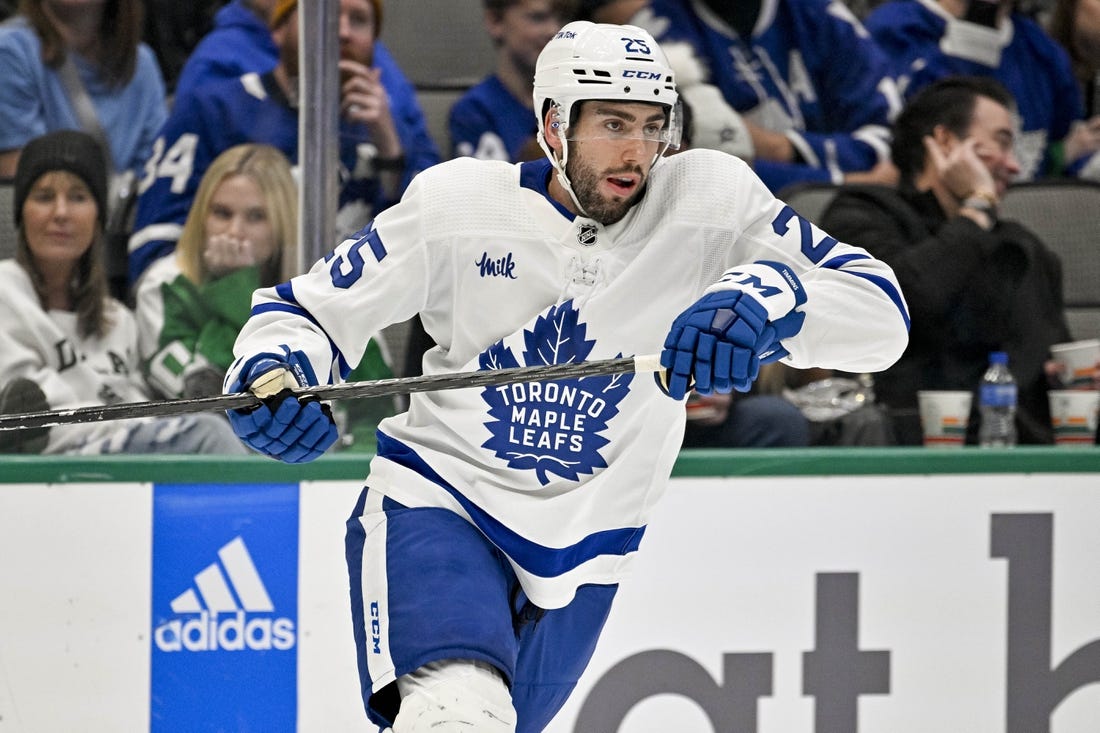 It can't be stated enough: Mark Giordano is turning 40 in October. He is the oldest player in the league. Last season, the Leafs battled injuries early on in the season and he averaged 20:39 of ice time in 15 November games, 20:01 in 12 December games, and 19:27 in 14 January games. As the season wore on, he performed progressively worse to the point where he was borderline unplayable in the playoffs, but the Leafs had little else to turn to in terms of options. Overall, he played 78 regular-season games and averaged 18:57 per game. Those numbers are far too high across the board.
Assuming Giordano is on the team, he really has to buy in to simply getting through the regular season healthy so he is ready to go at playoff time. Giordano is a savvy veteran who still flashes some skill and jam to his game; he can be an asset, but not if the grind of the regular season has broken him down before the playoffs even start.  Giordano playing night in and night out – even if they do limit his minutes – probably would look good early on in the season just as it did last season. But it won't end well when it matters most. 
Timmins isn't a perfect player by any means, but he has pedigree and talent, and his biggest issue has really been his inability to stay healthy, which has resulted in stunted development. If they risk putting him on waivers, someone will almost certainly claim him – at which point, what are the Leafs' options on the blue line?
In the summer, the Leafs lost Mac Hollowell and Filip Kral – two players who came up last season and did not look out of place. There were some interesting options on the Marlies last season in Marshall Rifai, William Villeneuve, and late-season addition Topi Niemela, although none of them have ever played in the NHL. They are nice options to have in the system, but none of those defensemen should be the next man up if one of the Leafs' top six goes down.
The organization did sign some veteran insurance, to some degree, in Maxime Lajoie and William Lagesson.
Lagesson didn't play a single game in the NHL last season and has all of 60 NHL games to his name at the age of 27. He is a 6'2 defensive defenseman who has had some okay moments in depth minutes, but he has struggled when handed any further responsibility.
Lajoie once produced a promising season of sorts to start his career in 2018-19 with the Ottawa Senators – 15 points, including seven goals, in 56 games – but he was a mess defensively. Since then, he has played just 14 NHL games. A couple of seasons ago, he won the AHL championship, and this past season, he produced 45 points in 63 games in the AHL, which is nothing to sneeze at. He is clearly skilled, but if he can't hold up defensively, he's not going to play.
That's the Leafs' defensive depth chart, more or less, in the event that they need to rest a 40-year-old Giordano and/or anyone else in the top six falls injured – not to mention the desire for a different option at their disposal should the coaching staff want to shake it up at any point. 
It is less than ideal not having seven defenseman on the NHL roster given Giordano's presence, and if we're looking at the depth group in the organization at the moment, Timmins is clearly a step above any other option given his pedigree and NHL experience so far. I'd also argue he still has some level of upside as well given his skillset and production.
If the Leafs don't waive Timmins and run a league-minimum roster, what else can they really do? The truth is not much unless we start arguing about trading player X, Y, or Z, just to clear the cap space. 
We discussed Calle Jarnkrok as a possibility when it seemed as if Murray might be bought out. In that scenario, there were a number of reasons it might make sense, but given the Murray LTIR designation, it makes less sense to discard an established NHLer who has five-on-five, shorthanded, and power-play utility across the entire top-nine forward group.
Another team would have to make a legitimately good offer to justify moving Jarnkrok. It would allow them to run 13 forwards, seven defensemen, and two goalies, though, which I consider valuable. There is a group of young forwards that could rotate in and out of the lineup and fight for ice time, including Bobby McMann, Nick Robertson, and Pontus Holmberg.
It's also worth noting that Sheldon Keefe has done some of his best coaching when he has had a full roster to play with, rotating in players such as Travis Boyd, Wayne Simmonds, the aforementioned McMann, Alex Galchenyuk, Jordie Benn, and Victor Mete (and even scratching Pierre Engvall to good results). A locked-in top-12 forward group doesn't give him much to work with besides shifting around the lines and benching players. It would handcuff the coach, to some degree, over the course of a long season.
The Leafs might very well decide to take this group into camp and see how it plays out. Injuries happen in camp all the time across the league each fall. Just last season, Timothy Liljegren came into training camp injured and missed the start of the season. A similar situation would alleviate the cap issues for the time being and allow them to audition some Marlies at the start of the season, kicking the cap question down the road. 
They can justify entering camp and seeing how things shake out, but when they eventually have a full roster – which will happen at some point – that's how they end up in a situation where they lose reasonable depth options such as Mike Amadio on waivers for free. 
It's also worth noting that they have to anticipate some of the tricks that preseason plays on teams in general. Last season, the Calgary Flames brought Sonny Milano into camp, but he didn't impress them in preseason, they cut him, and he signed with Washington on a cheap one-year deal. He subsequently earned a three-year extension, finishing the season with 33 points in 64 games.
It wasn't earth-shattering, but for a Flames team that looked for a top-nine winger all season, finished 19th in goals per game, controlled possession but struggled to finish, and finished two points out of a playoff spot, maybe it would have been enough. Is Treliving going to take a lesson from that experience moving forward in Toronto?
A competition in camp of sorts is fine, especially between Marlies who are under the team's control and can be sent up or down without issue. However, in general, they need some sort of plan from the outset that doesn't involve losing assets. Right now, the options are a bare-minimum roster, some sort of camp injury, or a trade to clear space.
Other offseason notes
---
– We mentioned earlier this summer that the loss of Erik Kallgren was at least a somewhat notable void the Leafs needed to fill. Joseph Woll is still largely unproven and injury prone. Ilya Samsonov is also injury prone.
Ultimately, Brad Treliving signed Martin Jones who, as a third-string option, is about as good as you can get if you want someone with experience in that spot. He has played over 400 games in the regular season and over 60 in the playoffs. Woll is waiver eligible, and there really is no situation in which he should be placed on waivers. In the likely event Martin Jones is sent down through waivers, the Leafs gave him $875K on a one-way deal ($875k minor-league salary), which probably incentivized Jones to sign here and might make at least a few teams think twice before submitting a claim. 
– Basing the minor-league team in Toronto is a huge advantage that the Leafs should cash in more often, if anything. They can offer veterans a chance to play in Toronto – with high-end facilities – right beside the NHL team as opposed to some obscure city. It is one of the best situations in the league for a player bouncing back and forth between leagues. The only major difference other than the hockey itself is which rink you are driving to. 
– Ilya Samsonov produced a great season and claimed the number-one spot in net for the Leafs, but it should be noted that he only played 42 games. In the playoffs, he was again fantastic, but he again got hurt and didn't finish the second round. His career-high in games played is 44, and in four seasons in the league, he has basically produced two good ones (and in the first good one, he played 19 games). There's just no real track record to rely on when handing him any sort of term on a contract. It would be a massive risk, and as we've seen with Matt Murray, a long-term contract for a struggling goalie is a mess to deal with. It would have been nice to get Samsonov under contract for more than one year but fewer than three, but why would Samsonov agree to it? He should bet on himself.

Similar to Jack Campbell a few years ago, when it comes to goalies, I like the approach of, "If he plays great, that's great! Sign a long-term deal." But if there are concerns, the short-term deal provides an easy out. Joseph Woll's presence helps, too.

The goalie situation could be completely different by the time the season ends just as it was at the end of last season when Murray was supposed to be the starter and under contract for another season at a palatable number had he performed/stayed healthy.
– In any negotiation, an agent always anchors their ask to a big number. I'm not entirely sure that William Nylander really looks around the league and thinks he should command $10 million per season, but in any event, Sebastian Aho signing long-term for $9.75 million AAV should put the conversation to bed. Aho is a true 1C on what has been one of the best teams in the league for years now. The goal of an ask so high is to shift the goalposts and the framework of the negotiation (see the Mitch Marner negotiation). It makes it feel as though a number in the mid-9s is a decent compromise at the end of the day, even though all the logical comparisons place him in the high-8s or – at best – the low-9s.