2012-13 Season
In case you missed the end of year interviews today, Dave Nonis and Randy Carlyle's EOY addresses are below. [more…]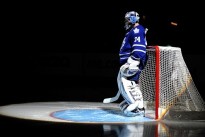 Reimer, Reimer, gotta be startin' Reimer. [more…]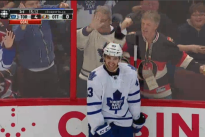 With the playoffs set to get going tonight, and the Leafs vs. Bruins on tap for Wednesday, I figure that this is a good time to take a quick pause and look back at the regular season that was.
I'm sure that after the playoffs are over we'll take another look back and evaluate things on a bigger scale, but for now I just want to reflect on some games that I feel produced some key moments for the team, and just as importantly, the fans. [more…]
MLHS'er 'McLoki' put this great infographic together on the 2013 Leafs season. Like, +1, share and retweet. [more…]
With the fast and furious 48-game 2013 regular season in the books, presented below are 82-game points projections for each Leaf player, for whatever they're worth. [more…]
Despite splitting the state of Florida, it's been a pretty terrific week for the Toronto Maple Leafs.  The club finished the road portion of the regular season with a record of 13 – 8 – 3, earning a respectable 29 of their 57 points on the season away from the ACC.  James Reimer recorded his fourth shutout and 19th win in only his 33rd start of the season.  Phil Kessel scored three goals in the two games to leap into sixth in the league in scoring with 51 points.
Are you ready for the most uplifting (small sample size) Four for Friday yet?
It was a bit of an eventful weekend with the CBA Memo of Understanding signed, Burke getting off his parting shots, Nonis making his big splash with the signing of Mike Mottau, and we finally have a schedule for the season (Full Schedule can be found here.) [more…]
Former NFL coach Buddy Ryan once famously said, 'If you listen to the fans, you'll be sitting up there with them.'
At the risk of pointing out the obvious, it means that, as a GM or coach of a pro franchise, your job is to do what is best for the team regardless of what the fans believe. Thus, when a person is commenting on the Leafs and says, "Toronto isn't patient enough to let the Leafs rebuild," I can't help but wonder what the hell they are talking about, and why it would even matter. [more…]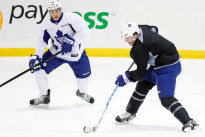 MapleLeafs.com will be live streaming the Leafs' practice at 2 p.m. this afternoon. [more…]
Five games against Montreal and Ottawa (3 at home vs. Montreal, 3 away vs. Ottawa), four against Boston and Buffalo, and three games against each of the other 10 inner-Conference, non-divisional opponents. [more…]
The NHLPA has ratified the new CBA, now the NHL and NHLPA will sign off on the pre-CBA document known as a Memorandum of Understanding. Two hours after the ink is dry on the MOU, player signings and trades can begin in preparation for the new season.
For the Leafs' part, they are expected to announce the signing of defenceman Cody Franson to a one-year deal for a shade over a $1 million: A cheap one-year re-up to bring the right-hander back from Sweden in time for camp and have him compete for the spot vacated by Luke Schenn. Failing Franson's ability to crack the lineup, this is still a win as the Leafs retain possession of a tradable asset. [more…]
In a Leaf era fraught with frustration and mistrust, nobody brought forth these feelings in fans more than Luke Schenn over the past couple years. After what many would call a promising start, Schenn's career became known more for blunders than smart defensive plays. Though I have written on how Schenn's stats seem to indicate underlying problems in his defensive game, I will admit that the goalies in Toronto have made everyone look bad lately. Brian Burke eventually saw what the fans saw in Schenn, trading him for James van Riemsdyk, another young player who had been somewhat soured in management (though that was due to injuries).
Will there be a 2012-13 season? Probably not. Will I do a 'What to Expect' for van Riemsdyk anyway? Absolutely. Come with me on a journey down the rabbit hole of advanced statistics. [more…]