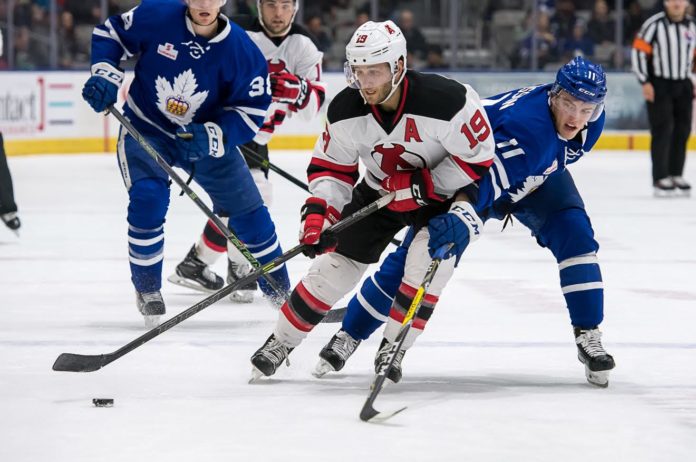 The Toronto Marlies host Game 4 against Albany with a chance to advance, Leafs sign Carl Grundstrom to ELC, off-season to-do list, and more in the links.
---
Marlies Host Devils in Game 4 (Marlies.ca)
The Marlies are preparing for a tough game as Albany are fighting to force a Game 5. "I think Friday is going to be another big test for us, in being able to close out a series given that it's a best-of-five," Greening said following Wednesday's game. Tonight's game is scheduled for 7:00 and you can catch all the action on Leafs TV and AHL Live.
Report: Calle Rosén to sign with the Leafs after World Championships (MLHS)
Swedish outlet The Expressen is reporting that 23-year-old Swedish defenceman Calle Rosén will sign with the Maple Leafs after the conclusion of the World Championships. The report comes on the heels of the news on Wednesday, broken by The Athletic, that the Maple Leafs and Blackhawks are the two frontrunners for Rosén's services. Nothing is official at this time, with The Expressen reporting that a contract won't be finalized until after the World Championships wrap up in late May.
Carl Grundstrom signed to three-year entry-level contract (MLHS)
The Maple Leafs signed former 57th overall draft selection in 2016, Carl Grundstrom, to a three-year entry-level contract on Friday. The 19-year-old winger finished tied for 24th in goal scoring in the top-flight Swedish league this season with 14 in 45 games. He slowed down as the season progressed after scoring 12 goals in his first 31, which at the time had him sitting in the top ten in SHL scoring as a teenager. Grundstrom added one goal and one assist in 14 playoff games for Frolunda this Spring.
Maple Leafs unfollow everyone on Twitter and fans are not impressed (CBC.ca)
The Toronto Maple Leafs have issued the ultimate diss to fans, some say, after the team unfollowed thousands of people on Twitter Friday. The lone survivor was Maple Leafs' president Brendan Shanahan. Leafs fans were quick to ask the team why they had been unfollowed. Some even referred to "shady stuff" going on.
Babcock could finally add Adams Award to trophy case (CBC.ca)
Early in first season with the Leafs, Babcock assigned Kadri, an inconsistent defensive player, to matchup duty. The 26-year-old embraced the role of combatting the stars of the league and hit career-highs with 32 goals and 61 points. "He understood what he had to do in order to make me an all-around player," Kadri said. "I just worked with him and I knew he was going to make me a better player so I just wanted to totally buy in and listen to everything he was preaching to me."
Shoring up blue line, acquiring backup goalie at top of Leafs' off-season to-do list (National Post)
There's not much available, especially at the positions Lamoriello needs to address. Kevin Shattenkirk of the Capitals will be the top prize among defencemen, and though he is 28, a right-handed shot and coveted by many teams, the betting is that he gets overpaid. Is he what the Leafs need when they've got Morgan Rielly and Jake Gardiner? No. Backup goalies on the free-agent market will include Darcy Kuemper, Keith Kinkaid, Peter Budaj, Scott Darling and Anders Nilsson.
Putting Maple Leafs 2017 rookie performances into perspective (Sportsnet)
Nazem Kadri and Matthews came together to mark the first time the Leafs had two 30-goal centres since Darryl Sittler and Bill Derlago in 1980-81. Even more milestones were reached in the playoffs: Marner became the first Leafs rookie to score in a playoff game since Jeff Farkas (2000), the first Leafs teenager to score in a playoff game since Daniel Marois (1988) and the first Leafs rookie to score on his first-ever NHL playoff shift since Andy Blair (1929).
Is it time to trade JVR? Kadri? Gardiner? (Toronto Star)
Leaf fans are funny. After one of the most successful seasons of the past decade, there appears to be a great deal of appetite among fans of the Maple Leafs to, well, start trading everyone. James van Riemsdyk for a defenceman. Nazem Kadri at peak value. Jake Gardiner. Morgan Rielly. I thought this only happened after losing seasons. I guess it's been a while since there's been a winning season.
Long road paying dividends for Marlies goalie Kasimir Kaskisuo (Toronto Star)
"What he's shown is he has confidence," Marlies coach Sheldon Keefe said Thursday during an optional practice ahead of Friday's Game 4 at Ricoh Coliseum. The Marlies lead the best-of-five series 2-1. "He's waited for his opportunity and now he's ready . . . He has his teammates believing in him, they feel good with him in the net, and that's the depth you want in your organization when one of your goalies (Sparks) goes down."
Leafs prospect report: Nikita Korostelev falls short of the OHL Championship (PPP)
Nikita Korostelev is now facing the end of his time in the Maple Leafs system. He's an unsigned 2015 draft pick, and if he doesn't receive a contract by June 16th, he'll go back to the NHL draft. The NHL has been his goal, moving from Moscow to play in GTA minor-midget leagues ahead of the OHL draft (this keeps him from being recognized as an 'import player'), he never cracked the top level GTHL but was taken by the Sarnia Sting. In four season in the OHL, mostly with the Sarnia Sting, Korostelev scored 93 goals, 104 assists, for 197 points in 223 games. Those aren't the best numbers, and post-draft you want to see your players over a point per game, which Korostelev only reached this year.
Rich Clune embracing role with younger Marlies (Toronto Sun)
"I see some people and they must live in this amazing world and they complain about all the nice stuff they don't have, when there are thousands and thousands of people who would kill to be in my position. I'm certainly not happy out of the lineup, but I've been playing too long that I won't allow myself to get discouraged."
Playoff Buzz: Blues, Ducks aim to even series (NHL.com)
Coach Randy Carlyle said Bieksa will be out until later in the series after sustaining the injury early in Game 1. Bieksa was limited to 7:03 in Anaheim's 5-3 loss to the Oilers. The Ducks have been using a hard match of center Ryan Kesler against NHL regular-season scoring champion Connor McDavid. McDavid had an assist in Game 1 and has five points (two goals, three assists) in seven playoff games. Oilers right wing Leon Draisaitl leads Edmonton in playoff points (seven) after four in Game 1.