Alec Brownscombe
That. That was the win that cemented the Leafs as playoff worthy. [more…]
In a matchup with big playoff implications, the Leafs could move ten up on the 10th-placed Carolina Hurricanes with a win in this four-point swing game. A loss in regulation puts the Hurricanes within six with three games in hand.
The Hurricanes are an opponent the Leafs have struggled with in both matchups this season. Their strength down the middle has played a key role as the Staal brothers have featured prominently on the scoresheet in a combined 7-2 win over the two games. Among teams the Leafs have played more than once, the Canes are the only opponent they have gained zero points off of. [more…]
What an impressive showing by Joffrey Lupul last night. Re-united with 2011-12 running mates Tyler Bozak and Phil Kessel after an in-game audible by coach Carlyle, he led the Leafs to a not-always-convincing 3-2 win over the lowly Florida Panthers with goals five and six in his last four games. [more…]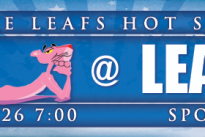 After a game in which the Leafs sat back, tried to limit the damage and relied on the counterattack against Boston, tonight you hope to see the Leafs exhibit spells of dominance against the 30th-placed Florida Panthers. It's a back to back scenario with travel in between, but we would love to see some killer instinct out of the Leafs knowing the state of the opponent and the importance of the two points. [more…]
Tonight, Randy Carlyle will stick with James Reimer seemingly in an effort to give Reimer a chance at staking a number one's claim to the crease. Carlyle has stated his preference to have one emerge over the other rather than a 1A/1B rodeo situation, and allowing Reimer to try to play his way through a few shaky goals on Thursday seems to be the approach. Although it could be a simple case of Reimer giving the Bruins a stiffer test than Scrivens in the teams' two meetings so far this season (at least according to the scoresheet; 1-0 loss to Boston in early February with Reimer in net). [more…]
After the jump, take in Morgan Rielly's first pro goal in his first pro appearance during last night's Marlies-Wolves game (4-3 shootout loss). [more…]
After returning from injury and playing an instrumental role in the Leafs earning three of four points, the Leafs will be without Joffrey Lupul again for two games as a result of today's suspension for his high hit on Victor Hedman.
Lupul did leave his feet slightly prior to contact. The principle point of contact was the head. My instant reaction last night was that it was suspendable and that one game would suffice.
If player history and the damage inflicted on the victim are factors (Hedman returned to the game), why does Lupul get the extra game? [more…]
A much needed two points put an end to a five-game winless (but not pointless) skid. Given the Leafs' three wins in their prior nine were a pair of up-and-down 5-4 wins (vs. Ottawa and NYI) and a late come from behind win over New Jersey, this could be fairly labeled the Leafs' first consistent performance over three periods since their wins over Buffalo and Philadelphia in late February. [more…]
James Mirtle wrote the other day about how the first Pascal Dupuis goal in the crushing 3-1 loss to Pittsburgh last Thursday was the back breaker when it came to Korbinian Holzer's time with the Leafs this season. Holzer challenged Chris Kunitz on the boards and Kunitz came out cleanly with the puck to start the play that led to the goal. I remember thinking at the time, "Holzer struggles with his outlet pass, he struggles positionally, what are we doing here if Holzer can't even win a battle on the boards?"
Unfortunately for Holzer that was just one of many recent goals against he's had a hand in. That said, despite the demotion, I'm not going to write off Holzer as a Leaf asset. I think he could be what Mark Fraser is now if he learns from this experience, gets some confidence back in the AHL (presumably will still be down there for their playoff run), and gets his next crack in a more manageable situation. [more…]
Joffrey Lupul makes his return at a game where the Leafs need to stop the bleeding or else risk playing their way out of a playoff spot in the span of five games (should the Rangers win their back to back games Monday-Tuesday; Leafs don't play against until Wednesday). [more…]
Joffrey Lupul returns to the Leaf lineup at a time when they could sure use a boost. It's not official that he'll play tonight, but the indication from the player himself is that he will be making his reappearance against the Winnipeg Jets after 25 games missed due to the broken forearm, and indications from practice yesterday are that he might start off on a line with Nazem Kadri and Nikolai Kulemin. One imagines, after some time to shake off the rust, he'll make his way back up to the top line opposite Kessel. For tonight, I'm curious to see how that line, if it comes together, performs in their matchup while attempting to exploit weaker competition.
You have to like how the Leafs depth at forward is starting to shape up now that they've got a full deck. Let's hope Carlyle can find the right combinations to turn what could be a triple threat into reality. With this likely bumping McClement and Komarov to the fourth line, Lupul's return also lends itself to the tantalizing potential of rolling four lines effectively. [more…]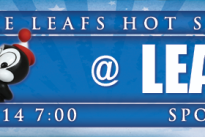 You get the sense the Leafs are starting to reach a seminal point of their season. They're inching further into the second half of the short schedule, games are growing in importance, pressure is mounting, and they're facing their first significant bout of adversity in the form of a three-game losing streak. It doesn't get much easier with the Penguins returning to town tonight. [more…]