Analysis
If leaked reports are to be believed the NHLPA is preparing to file a grievance pertaining to the NHL's rejection of the unprecedented 17 year, $102 million contract filed last week by the New Jersey Devils for Russian forward Ilya Kovalchuk. The report suggests that even if the Devils and Kovalchuk can agree on a restructured deal, the NHLPA may still decide to file a grievance in a preventative effort for future contracts.
The latter part is particularly significant for those who have been viewing the leagues rejection of the initial contract as an act of political posturing in the face of the PA's on-going power struggle and an attempt at drawing a line in the sand.
There has been a certain degree of consternation among Maple Leafs fans of late regarding the number of SPCs (Standard Player Contracts) the team has on the books. Many have expressed concerns that the Maple Leafs are near the league maximum, and fear the situation could adversely affect the team's efforts to continue to re-tool the club into a playoff contender.
A quick glance at the Collective Bargaining Agreement (CBA), however, tells us the situation is not so dire as some would have us believe. The reason? A seldom-discussed clause, unofficially dubbed the "Slide Rule".
When Brian Burke added Mike Komisarek and Francois Beauchemin to an established Leafs cast of Luke Schenn, Tomas Kaberle, Ian White and Jeff Finger it looked to all that the Toronto GM had built himself an enviable problem. A premium blueline, arguably one of the finest in the Eastern Conference, that also came with a premium price tag.
Of course, what began an enviable problem on paper quickly devolved into an actual problem when the new additions failed to mesh into a cohesive unit with defensive and special team frailties more apparent than those of an comparatively budget offense.
Somewhat surprisingly, there has been a fair amount of debate over yesterday's signing of Colby Armstrong.
I find this interesting because  much of the criticism seems to revolve around the notion of $3m equating to more than a 15 goal career average, even though Armstrong wasn't exactly acquired for his offensive prowess.   The main criticism seems to be, why would the team be willing to make a $9 million investment over 3 years, when similar production can likely be found at a cheaper rate?
Now, it seems most decided to stop at that point and take the easy road; that being negativity for the sake of negativity (a known idiosyncrasy of Canadian hockey fans).  But instead of screaming "WHY did they sign him?", I propose a different question:  Why DID they sign him?
It's not every day the Maple Leafs name a new captain. In fact, it's not every decade. Sundin was named in 1997, 13 years prior to the Leafs appointment of Phaneuf. And with the announcement being made in front of a room of roughly 100 media personnel, the message was relayed to the world using every different angle imaginable.
Instead of weighing the pros and cons, balancing the collective good choices of Burke and Wilson against the bad, MLHS is going to bring you into the event. Thousands of writers have provided their opinion but little time has been spent enabling the reader to form their own. So please, if you will, grab your notepad and follow us past the security and the media media check-in, and into the press conference that will see Dion Phaneuf named the 18th captain of the Toronto Maple Leafs. [more…]
In a move that should surprise nobody, a Swedish hockey site has indicated that Rickard Wallin will not be with Toronto next year. Â Wallin, who would have been a UFA for the Leafs, signed a four-year deal with his longtime European team Farjestads. Â This ends a very brief return to the NHL for the Swedish centerman which saw one mediocre-at-best season with the Toronto Maple Leafs.
(Author's note: the intent of this analysis is not to ignore the great work of Nik Kulemin, I just couldn't really find any particularly compelling or solvent data to include in this article. Also, I just graduated university, so for the 0 fans of my work who were wondering where I was...uhhh... drinking, mostly)
The 2009 – 2010 season for the Toronto Maple Leafs was one of transition, the decrepit monolith created by John Ferguson Junior being thoroughly and carefully dismantled by Brian Burke in an attempt to bring back league-wide respect and playoff aspirations to the storied franchise we know and (as of late) begrudgingly love.
[more…]
It's Leafs Nation's tired but pivotal debate that dates back to the trade deadline of 2008: Should the Leafs move Tomas Kaberle?
It seems the debate should now be reframed into a new context considering Kaberle's current contractual situation: Should Brian Burke trade or re-sign Tomas Kaberle?
Give Burke credit for sticking to his word to the point where we should maybe stop questioning it. Since the deadline of 2009, Burke has remained steadfast in his management approach to what he considers an extremely valuable asset: he'll listen to offers, and if one meets his lofty trade demands, he'll run it by the NTC-equipped Kaberle (quite different apparently from asking him to waive). The latter part is no longer relevant. Though it's known Kaberle's preference is to stay, he can be traded without the Czech's consent as of the 2010 NHL Entry Draft. What remains relevant is that, ostensibly, Burke still thinks as highly as ever about Kaberle, believing him to be a premium puck-mover and consummate professional, and will only move him for the right price. Shopping Kaberle to the highest bidder is seemingly not in the cards.
[more…]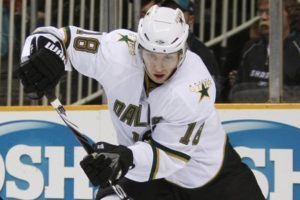 During his first full year at the helm in Toronto, you could make the case that Brian Burke was the league's most active general manager. There was the Kessel summer blockbuster with Boston and then the mega-deals on January 31st that brought in Phaneuf and Giguere. It's quite obvious that he's willing to expend assets to target any top notch premium young talent when it's made available. Both of those trades were opportunities: Kessel was a restricted free agent on a team with cap issues. Burke often spoke of inquiring on Phaneuf several times throughout the year until the "pressure points" of the cap and the struggles of the Flames pushed Sutter into making a bold move. This summer should be no different. Let's take a look at some of the young RFA's that might potentially attract Burke's interest.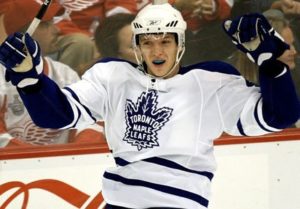 Now that the Leafs' most important pending free agent -- goaltender Jonas Gustavsson -- has been signed to a two-year contract extension, it is time to take a look at their remaining free agent players.
Notably, the list of expiring contracts includes pending RFAs Nikolai Kulemin, Christian Hanson and John Mitchell. Pending UFAs on the Leafs' roster include Wayne Primeau, Rickard Wallin, Jamie Lundmark, Garnet Exelby and Mike Van Ryn.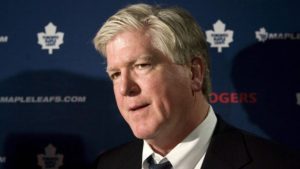 While most Leafs fans are content to sweep the 2009-10 season aside and look ahead to greener pastures, we're nevertheless forced to look on in envy as sixteen other fan bases get to watch their teams play meaningful hockey with the sun out. It's a feeling Leafs Nation hasn't experienced since pre-lockout times, and as low as expectations may have been coming in, it is unexceptionally a failure not to be in the mix this time of year. Brian Burke will be the first to acknowledge that, and did so in his State of the Union address today.
[more…]