Analysis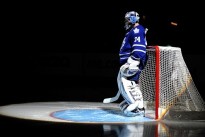 Reimer, Reimer, gotta be startin' Reimer. [more…]
In hiring Tim Leiweke, MLSE has brought in a guy who is partly what many fans have always wanted in a President, and partly what they detest.
It is no secret that Leafs fans have always felt slighted within their perception that MLSE cares mainly about making money rather than winning. Leiweke, however, is a guy who most certainly does care about winning. [more…]
As the Toronto Maple Leafs skip along to their first playoff berth in eight seasons, Dion Phaneuf's play is forcing his name to be included in discussion for the Norris Trophy.  The Norris is awarded annually to "the defense player who demonstrates throughout the season the greatest all-round ability in the position," and that sure sounds like the play of the Leaf captain this season.
He plays a physical, two-way brand of hockey and sits fifth-best in league for defensemen scoring with eight goals and 18 assists for 26 points in 42 games.  He's a leader on the ice, the best defender on the team by a mile and has joined forces with Phil Kessel, Nazem Kadri and James Reimer to drag the Leafs into contention.
But how does his performance this season stack up against performances past, and what greater truths can we find about the anatomy of a Norris Nominee?
Against the Rangers, the Leafs went 24:33 without a shot. Considering that's nearly half of regulation, I went back and watched the tape in order to find out what exactly was going on during this time.
3:32 was the time of the Leafs last shot before they finally shot again 24:33 later. There was a delayed penalty coming up on the play for the Rangers and the Leafs were working it around New York's zone nicely resulting in a Kulemin slap shot from the top of the circle. The Leafs had five shots on net in the first 3:32 of the second and scored on one of them. Those were the only shots they would get all period. [more…]
Trade Deadline 2013 is in the books. The Kiprusoff scare is over.  Leafs are still 5th in the East.
"Sometimes the best moves are the ones you don't make."-Anthony Petrielli -(@APetrielli)
For those of you who missed it and were doing something productive, yesterday's experience reminded me of a famous quote once uttered by an esteemed San Diegan news anchor. In what started off as an eerily quiet and inauspicious morning, things quickly turned into a maelstrom towards the end of the deadline at 3pm. I usually go solo on this piece but given the magnitude of the Trade Deadline, I opted to enlist the help of some of MLHS' great writers for thoughts on what transpired yesterday.  We've got you covered. [more…]
Dave Nonis and co. made a cheap, depth addition to their blueline today by adding Ryan O'Byrne. You would almost think the ghost of Brian Burke was behind this move as Toronto picked up a large, physical player whose impact is reflective of work ethic and toughness rather than innate hockey finesse. [more…]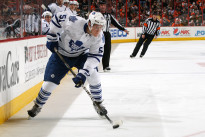 Thanks to @mORRganRielly for the following submission:
Jake Gardiner sucks.
No, just kidding.  He's pretty awesome.  He is an immensely gifted, up-and-coming defenseman, but he does have a little bit of learnin' to do.  In light of his recent scratch, I wanted to take an opportunity to delve more into his role with the Leafs and the relationship of his play against the overall performance of the Leafs defense over the course of the season.  To that end, I will be looking strictly at even-strength play rather than specialized roles like the power-play or the penalty-kill. [more…]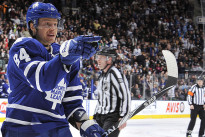 After a good comeback/confidence-building game against the Tampa Bay Lighting, the Toronto Maple Leafs  have perhaps created more questions than answers. The Penalty Kill keeps [more…]
That Kadri kid is pretty good isn't he? Back when Brian Burke stepped up to the podium at the 2009 NHL Draft in Montreal, I imagine this was the player he was envisioning that night: slick, slippery and drenched in skill. That was an absolute clinic Kadri put on out there against the Lightning, displaying all sorts of offensive creativity, patience and ingenuity with the puck. This is a player who is gaining confidence and progressing by leaps and bounds - a player on the verge of making a lasting imprint in this star-starved market. But before we get too far of ourselves thinking ahead, why don't we take a step back and briefly peruse the timeline  that has led him to the "now" (and enjoy a few memorable quotes along the way).
[more…]
Here's five Leaf thoughts to get you through your Friday, with five links at the bottom.
Steckel and McClement Faceoff Woes
I was taking a look at the faceoff numbers, and I noticed some altogether startling numbers from Steckel and McClement.  Both were once kings of the faceoff circle, with McClement averaging 51.6% of his 1152 draws in 2010-2011 and 51.3% of his 873 draws in 2011-2012, whereas Steckel won 62.3% of his 820 draws in 2010-2011, and 58.0% of his 1108 draws in 2011-2012. [more…]
With the first half of the season in the books, the Toronto Maple Leafs sit firmly entrenched in fifth place in the East with an impressive record of 15 – 10 – 0.  So who should we thank for the great successes so far at the midway mark?
Top Forward:
In the least interesting reveal of the article, Nazem Kadri wins this first Middy™ by a wide margin.  He took the team lead in points in the third game of the season and hasn't looked back, having tallied 11 goals and 14 assists for 25 points in 25 games.  His arrival to the Leafs may have had few more layovers than anyone hoped, but he's now showing every night just why Brian Burke was right to draft him seventh overall in 2009.
For reasons beyond my comprehension, the two-year contract extension handed out to 25-year-old Korbinian Holzer yesterday generated reactions beyond "oh, alright" on Twitter.
Unless you're [more…]